At Fountain Valley Regional Hospital and Medical Center, some volunteers have paws. You could say it's a requirement, because they are part of the hospital's Pet Therapy Program. The Pet Therapy program is "staffed" with five certified therapy dogs and their humans who visit both adult and pediatric rooms. The goal of the program is simple: to lift patient spirits.
A few well-known benefits of pet therapy include:
Lifts spirits, lessens depression and reduced loneliness
Lowers blood pressure
Diminishes overall physical pain
The act of petting produces an automatic relaxation response by releasing endorphins that have a calming effect
Encourages communication
Provides comfort
Increases socialization and sense of community
Reduces boredom and anxiety
Each therapy dog has their own "work" schedule at the hospital, and upon arrival to the hospital are assigned to a patient area. Patients who participate spend about 10 minutes with the therapy dog. The patients love the visits and many call them a blessing.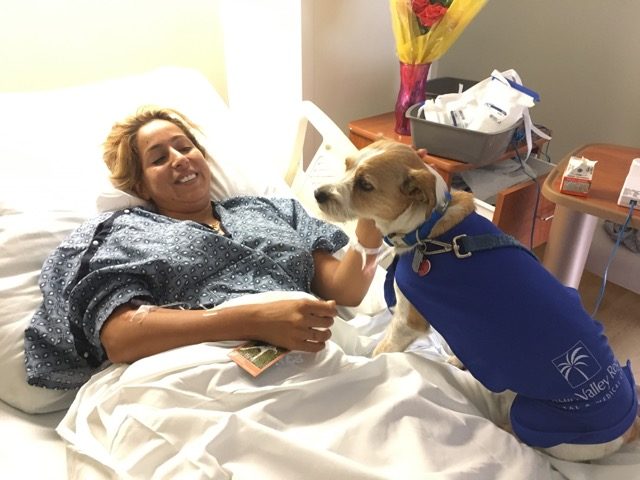 Benji, a Jack Russell mix became a certified therapy dog in January of 2018. He is four years old, and was certified through Alliance of Therapy Dogs. Benji's parents, Michelle and Anthony Tran shared a little about the certification process: "They tested him on his basic obedience – if he can sit on command, stay on command. The next two days they took him to a rehab center, and they put him around medical equipment just to make sure he wasn't skittish." Michelle and Anthony have had Benji since he was a puppy and have been consistent with training up prior to the certification, which helped.
"When he enters a hospital or medical facility, he knows {he is there to work}. He's hyper focused and super calm."
If you are interested in becoming part of the Fountain Valley Hospital Pet Therapy Program, or volunteering in another way, you can learn more by visiting their website, www.fountainvalleyhospital.com