Jamie Lee Curtis has illuminated our movie, television, and computer screens for more than 40 years—long enough for many fans to feel like she's a longtime friend. She has that quality, a gift for connection, and it's apparent both onscreen and off. You may know Curtis from one of her many films that have earned her an Oscar, a Golden Globe Award, and a BAFTA (British Film Academy Award) for Best Supporting Actress, as well as numerous nominations. She's a versatile actor with an impressive range—whether horror, comedy, action, or drama, Curtis makes you believe. Her relatability and authenticity have made her a favorite of audiences around the world. Curtis is also a hero to women, having been bold enough to smash the notion that women over a certain age are wilting flowers. Curtis instead proves that women are ever growing, super blooms.
But Jamie Lee Curtis holds many other titles, too—wife, mother, sister, LGBTQIA+ advocate, #1 New York Times bestselling children's book author, who has written 13 books, television/ film/podcast producer, founder of a nonprofit, CEO of Comet Pictures, and Dog Mom to a magical little pup named Runi.
Runi is short for Karuna, the Sanskrit word for compassion. He is an adorable, white floof with melting brown eyes, and he adores his mom. In fact, you will catch him staring at his mom all day long – even if he's getting belly rubs from someone else.
The Canine Connection
Curtis lights up when she talks about Runi. "He is my complete. I love him so much." She describes the first small dog she had, Clark the "no-bark" dog, who looked a bit like Runi. Everyone who met the little dog loved him. After Clark's passing, Jamie and her family welcomed several other dogs, mainly large breeds, into their home. But in 2016, she found herself craving the companionship of another small dog.
With the help of Nancy Sarnoff of Perfect Pet Rescue, Jamie was introduced to a white poodle mix who had been recently rescued from the streets of Los Angeles. Jamie was working at the time, so she was only able to view a photo of him, but she connected with Runi right away. She knew this dog was meant to be with her. In the days leading up to the formal adoption, Jamie called Nancy every day to check in on Runi, get daily photos, and make sure he was doing well.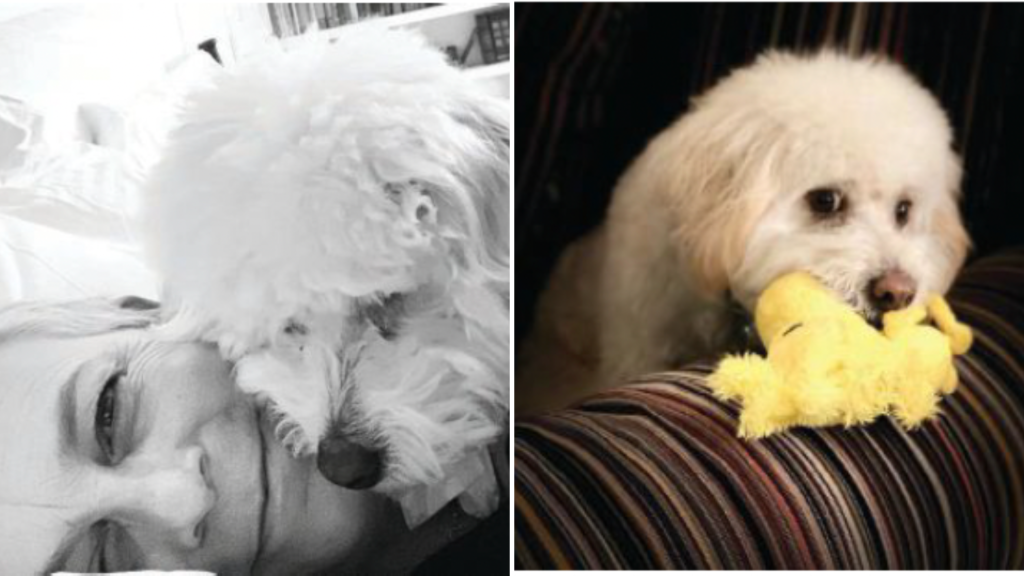 Once at home, Runi adjusted in his own time. At first, he was quiet and cautious. No barking—much like little no-bark Clark—but Runi soon found his voice and began to reveal his personality, impressive herding skills, and obsession for yellow balls. He also began working with a trainer right away, Jamie points out. "I hired a dog trainer, because I believe it's important to train your dogs and establish healthy relationships with them." Working with a trainer helped Runi become the best version of himself. Although he's an expert leash walker, sometimes he decides to turn into "a bit of brute," according to Curtis. But, because of his training, Rumi knows to quickly change his behavior when corrected. Like his mom, he ultimately just wants to bring people peace and comfort, and maybe a smile or two.
Who is Runi?
Curiosity about all things Runi prompted Jamie to request a dog DNA test to reveal what breed Runi's ancestors might have been. Here's how Runi's ancestral breed mix breaks down:
■ 25% Chihuahua
■ 25% Shih Tzu
■ 12.5% Miniature Pinscher
■ 12.5% Poodle
■ 24% "Sporting and Companion" breed group
"So, what is interesting about my little Runi is that all those breed reports are kind of correct, but we learned very early on that Runi is a herder—he is ball obsessed. He will chase it, play with it, and herd it. He's a natural at herding, much like a cattle dog. He is just an incredible companion, and he's changed our lives."
Jamie and Runi share a deep bond, and she honors that bond by making sure Runi is living his best life every day. In celebration of Runi's 6-year adoption anniversary, Jamie shared a message on her Instagram.
"Six years ago, today my life changed. @perfect_pet_rescue introduced me to Runi and my heart opened. We have had many adventures and he came with me to all the shoots of the Halloween movies, and we have had long separations due to work. He is sweet and fierce and funny and feisty and has discovered his voice. He is loved by my friends and family and has my heart. Happy adoption day to this sweet friend. I love, you Karuna!"
A Day in the Life of Runi
A typical day in the life of Runi includes waking up at 4:30 a.m. with his mom. He hops outside for a quick potty break, then retrieves a toy to show his mom. "Runi is a toy guy. So, in the morning, he will go get a toy, show it to me, we have a conversation about it, and then he goes under my desk to wait on me while I do all my morning work."
Runi walks every day with a dog walker, but when Jamie is home, she prefers to take him on walks herself. After mealtime he'll grab his favorite toy – a yellow ball from Planet Dog – and get a little play time in. Eventually, he will find his way to the couch and do his signature move. Jamie calls it "The Drop." She explains, "You'll be sitting on the couch, and he will come over and do a very specific movement so he can lean his whole weight against you. Ahhh … it's better than an Oscar, better than any drink or drug I've ever taken. The feeling of him leaning against you is priceless."
Giving Back
Jamie Lee Curtis is an outspoken, compassionate human being who moves people to action and stands up for her beliefs and her people. She believes in small acts of kindness and offering comfort and support to those in need. To steward this belief, she created My Hand in Yours (myhandinyours.com), an online shop featuring items handcrafted by artists and makers. Everything on the site has a pleasing touch, a softness or smoothness, that's designed to bring comfort when touched. These comfort items are perfect for a loved one, friend, or colleague going through a hard time and as celebration gifts as well. Best of all, My Hand in Yours reports that "100% of every sale goes to the care and treatment of critically ill and injured children at Children's Hospital Los Angeles, so it's a gift that will keep on giving year-round."
Her love for animals resulted in a new offshoot of her nonprofit, My Paw in Yours. This online store is a collection of made-by-hand pieces for dogs and dog lovers. The proceeds from these sales support the Children's Hospital Los Angeles program that brings service animals into the hospital to comfort and cheer up the hospital's young patients.
The Little White Dog by Her Side
At the end of our interview, Jamie shared a sneak peek of the cover art of her most recent children's book, to be released at the beginning of next year. Her 14th children's book, Just One More Sleep, is written by Curtis and illustrated by artist Laura Cornell. As she revealed the colorful and playful cover art, I saw it. It was right there on the cover, of course—the little white dog. The one who's always by her side.
Runi Fun Facts
Runi's Top 5 Things He Can't Live Without:
Yellow Ball
Yellow Ball
Fuzzy Beach Ball
Small Animal Toy
Yellow Ball
Runi's Best Party Trick: Yellow Ball.
Runi's Greatest Obsession: Mom (and Yellow Ball)
---
My Paw in Yours Featured Pieces
My Hand in Yours (myhandinyours.com) has a collection we love called My Paw in Yours that features items for pet parents and pet lovers. Some of those items include: a comforting Warm Up Puppy, a beautiful leash and companion bag, artful stainless steel water and food dishes. Like all items available on the site, 100% of every sale goes to the care and treatment of the children at Children's Hospital Los Angeles.

Visit My Hand in Yours to shop the pet lovers collection and other comfort gifts at: myhandinyours.com and be sure to follow them on Instagram @my_hand_in_yours for news and new product announcements.