Your Holiday shopping list is almost finished.
Everything's bought and wrapped except the gift you're giving to the furriest member of your family. That's the easy gift, though, because you know what your dog likes. He knows what you like, too: snuggling together with a good book. So why not try these Canine Christmas books?
Big brown eyes. Who can resist them?  Not author Joal Derse Dauer, and in the true story "Saving Sadie" (with Elizabeth Ridley), she writes about how she found a disabled, depressed dog at a no-kill shelter and she knew she had to so something. It's a book about love, perseverance, and willingness to open your heart to the dog that needs you most (and vice versa!).
The dog-lover who also loves a little mystery will want "The Twelve Dogs of Christmas" by David Rosenfelt. In it, defense lawyer Andy Carpenter takes on the case of a complaint about Carpenter's friend's dog-rescue organization. Martha "Pups" Boyer rescues stray puppies, makes them good dog citizens and finds them good homes, but Pup's neighbor filed a too-many-dogs report with the city. When that neighbor turns up dead, you can guess who's got fingers (claws?) pointed at her…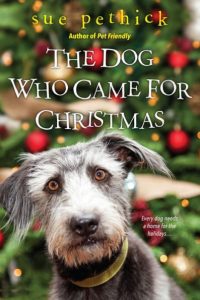 Who doesn't want a little romance at Christmas – especially if there's a dog involved?  "The Dog Who Came for Christmas" by Sue Pethick is a novel about a single mom who's near the end of her rope, until her son brings home a stray dog. Of course, the whole family falls in love with the pup – until the dog's supposed owner shows up to claim the pooch from the boy. He's single, too, but only barely. Will whoever gets the man, keep the dog, too?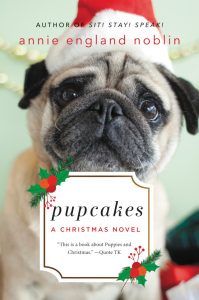 If you know the answer to that book without even trying, then you'll like "Pupcakes: A Christmas Novel" by Annie England Noblin, the story of a newly-divorced woman, a pug on her doorstep, a new business, and an intriguing man with an Irish wolfhound. Toss in a curmudgeonly neighbor and there's a good tail.
Here's no big news: celebrities love their dogs, too, and you can read some of their thoughts on Fido and Rover inside "Life's a Pooch" by Boze Hadleigh. It's chock-full of quotations about dogs (both in film and out), people who love dogs (both in film and out), and people who hate dogs (gasp!), broken into categories that make for easy browsing.
And finally, speaking of celebrities, if you're familiar with author Shirley MacLaine's terrier, Terry, then you'll want to read the updated "Out on a Leash." I'm not ruining the ending by saying that Terry died, but there's more to the story here. Suffice it to say that if you lost a dog this year, you've got to read it all.
If these books don't satisfy your craving for canines, then sniff around at your local bookstore or library. There's a gift beneath your tree for Pupsie. Put one there for you, too, because a gift list without a dog book is really not finished.