Bubbletastic Bacon Bubble Blower 
Guess what? Dogs love bubbles. They also love bacon. Lucky for us, Bubbletastic combines BOTH! The Bubbletastic Bubble Machine releases thousands of bubbles that smell like bacon, for a hilariously fun time for human and pooch. Dogs love chasing and popping the flurry of bacon bubbles and, if your pup has lost interest in the dog park or their squeaky toys, this will perk them right up. Bacon bubbles are 100% non-toxic, tear-free and safe for dogs and kids. activedogtoys.com/collections/bubble-dog-toys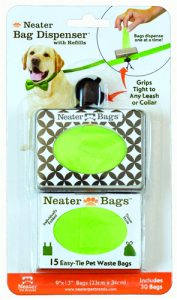 Neater Bag Dispenser
Streamline your walks with this compact bag dispenser from Neater Pet Brands. The best part of this nifty bag dispenser is that it attaches to your leash. So, no digging in your pockets or trying to untie a loose bag when you need it. The slim container comes in several different prints and comes stocked with 30 bags and a refill pack. neaterpetbrands.com
Pet Peek Window
Curious dogs, the struggle is over! The Pet Peek Window is a must have for pups who've just got see what's on the other side of the fence. Made of durable, clear, hard acrylic, the pet peek window is 9.5 inches in diameter and easy to install. Created for fences, the Pet Peek Window also works on doors and custom projects. To see installations, user videos, and ordering information, visit petpeek.info.
Pioneer Pet: Peek & Play Toy
Your cat's inner predator will love this Peek & Play toy by Pioneer Pets. Classic and durable, the wooden box houses toys of varying shapes and textures for your feisty feline to attack. Or, drop treats inside for treats inside for those who are food-motivated. This type of play keeps indoor cats stimulated, builds their self-esteem and confidence, and helps shape their individual personalities. See more at pioneerpet.com.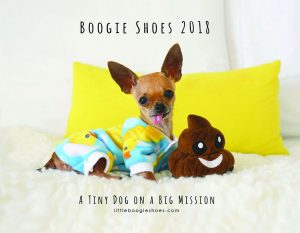 The Boogie Shoes 2018 Calendar
Boogie Shoes is a tiny dog on a big mission! Boogie Shoes is a two-pound, special needs Chihuahua, who has captured the hearts of thousands of fans on social media and has been featured on the Dodo, Green Planet, Paw-sitive Channel, Life with Pets TV, Pet Companion Magazine, and more. Boogie's 2018 calendar will warm your heart and make you giggle, with 13 months of full-color photographs and Boogie's silly quips. Available online at littleboogieshoes.com.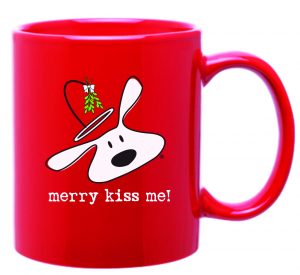 Dog Is Good Mug Collection for Cats and Dogs
"Merry Kiss Me!" and "Happy Holidogs" are two of the festive holiday mug designs offered by Dog is Good. Their full line of mugs features designs with inspirational and humorous quotes, like the popular "Dog is my Zen" and "It's all fun and games until someone ends up in the cone." Perfect gifts for dog and cat parents! dogisgood.com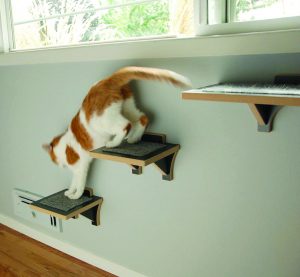 The Hawthorne Step
Give your cat a boost with The Hawthorne Step by Squarecat Habitat. The sleek, eco friendly design blends into your home effortlessly and is great for cats on the move, homes with limited floor space, or a multi-animal home. Inserts are made with recycled material that creates faux mohair or plush in a variety of colors to match any home and offer easy cleaning. squarecathabitat.com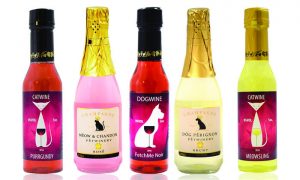 Pet Winery
Make sure your pets and their guests have a fully stocked paw-bar for the holidays and every day with Pet Winery's selection of organic pet beverages. Pet Winery beverages are made from U.S. organic products that are vitamin-enriched, healthy, and safe for your pets. All products are produced in a food-grade lab, adorably packaged, and named after familiar classics, including Dog Pawrignon, Meowsling, Purrgundy and Dog-tini. All beverages are non-alcoholic. petwinery.com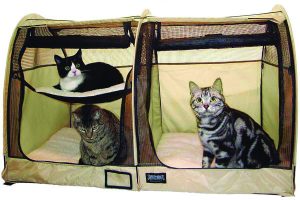 Sturdi Pop-Up Kennel
A must-have for anyone traveling with a pet, the Pop-Up Kennel by Sturdi provides a comfy space your cat can claim. No assembly required—just remove it from the case, give it a shake, and it pops right open. Available in different sizes, the kennel boasts mesh doors for maximum ventilation. Additional pads, hammocks, colorful cover and customization are available. Great for use at home, in hotels and on the road! sturdiproducts.com
Go Cat's "Cat Dreams" DVD
Over 100 clips of hummingbirds, squirrels, and other cat-tastic nature clips fill this 90-minute DVD made just for cats. Produced in full HD, "Cat Dreams" promises to keep your cat intrigued and entertained … just hit play! shoptigergrass.com/cat-dreams-dvd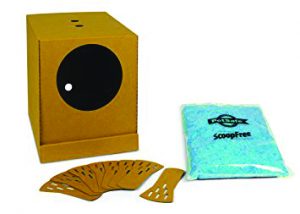 Disposable Litter box
If you're expecting a feline guest this year, the PetSafe® Disposable Litter Box is a great way to make your guest feel at home. Made of durable corrugated cardboard, the compact litter box easily pops up and folds back down for travel convenience. A bag of crystal litter is included, and the protective coating on the box protects against leaks while the box fits snugly into the lid for extra protection. The disposable litter box is great for use during travel or moving, at the office and more. store.petsafe.com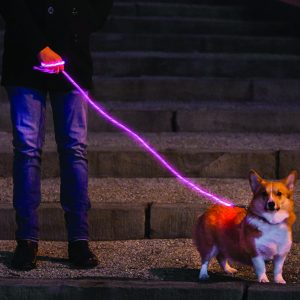 Nitey Leash
Nitey Leash was invented so you and your pup can take your evening walk or run safely. Using fiber-optic technology paired with a powerful LED, the Nitey Leash is the brightest and most affordable illuminated dog leash. It lights up completely from end to end, is five feet long and water resistant, and it has two modes—steady and blinking. It runs on 3 AAA batteries, which are included in your purchase, and has an auto shut-off feature after 20 minutes if you forget to turn it off. niteyleash.com
Happy Hammock™
The Happy Hammock by SmartyKat, is the purr-fect feline hideout. Its straps easily adjust to fit variety of spaces and non slip grip will ensure the hammock stays in place. www.smartykat.com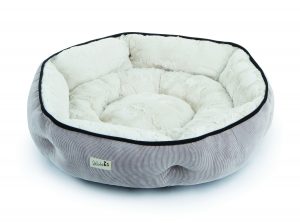 Soothing Escape Pet Bed
The perfect bed for a dog that loves to curl up when sleeping. The functional and fashionable bed is made of a unique mix of reclaimed memory foam to relieve achy joints, while the gel beads that cool and comfort. Available in two sizes medium and large. www.petlinkssystem.com
Holiday-Themed Chew Toys by Orbee
The holiday line by Orbee offers several festive designs that will perk up your pup and keep them busy. Orbee toys are made for chewers, and each toy has its own durability rating, so you can pick one that lasts as long as you need it to. Made from eco-friendly materials, the Orbee holiday line is a true classic. planetdog.com/Shop/Holiday