LOS ANGELES (October 17, 2017) – Last Chance for Animals (LCA) hosted its star-studded 2017 Benefit Gala at the Beverly Hilton Hotel in Beverly Hills, Calif. The event brought together more than 300 animal lovers, philanthropists and celebrities for an evening of vegan hors d'oeuvres, dinner, live entertainment and dancing. Actress Katie Cleary and radio personality Mark Thompson emceed the evening.
This year's celebration honored five visionaries who share LCA's mission to eliminate animal exploitation worldwide. Outspoken animal rights activist and philanthropist, Philip Wollen received the Albert Schweitzer Award for his animal welfare work in over 40 countries. Jane Velez-Mitchell, one of America's most prominent spokespersons for animal rights, received the prestigious Sam Simon Award, named in honor of LCA's devoted supporter and The Simpsons co-creator, the late Sam Simon. The Activist of the Year award was given to Bryan Monell whose undercover work has exposed animal cruelty across the world. Adam and Amber Tarshis, whose Foundation supports animal cruelty investigations and spay and neuter programs among other worthy initiatives received the Philanthropists of the Year award.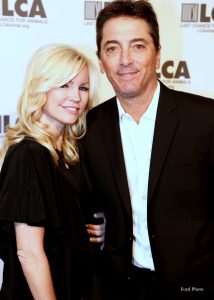 "We are incredibly grateful for the support that Last Chance for Animals receives from industry friends and our generous donors and sponsors who make it possible for us to create positive changes in the lives of all animals," said Chris DeRose, LCA president and founder. "Tonight we celebrate all that we've accomplished and we express our deepest appreciation for everyone who has made that success possible."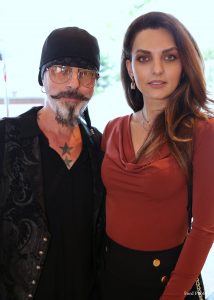 Anthony Caere, Head of the Air Wing for the Virunga National Park in the Democratic Republic of Congo and 2016 Albert Schweitzer Award recipient, shared a special update on the lifesaving impact of a Cessna 206 airplane that LCA donated to the Virunga Air Wing in April. Shortly after the donation, Caere was in a plane crash in another Virunga aircraft. The LCA donated Cessna flew its first mission to rescue Caere from the crash site. Since then, the Cessna has flown daily missions to support the rangers who protect the park and its wildlife.
Other celebrity guests included actors Joanna Krupa, Priscilla Presley and Scott Baio, Poison drummer Rikki Rockett, broadcast personality Jane Velez-Mitchell and Congo anti-poaching pilot Anthony Caere. Photos courtesy of Last Chance for Animals.
 ABOUT LAST CHANCE FOR ANIMALS
Last Chance for Animals (LCA) is an international non-profit organization dedicated to eliminating animal exploitation through education, investigations, legislation, and public awareness campaigns.  Since its formation in 1984, LCA has succeeded as one of the nation's pioneer animal advocacy organizations. LCA's educational and public outreach programs have empowered others to make positive changes for animals. For more information about Last Chance for Animals, please visit www.lcanimal.org.