Independence Day is no treat for Bow.
Like many dogs, explosives cause her intense anxiety. And not for an hour or two. We're talking 7 p.m. to the wee hours of July 5. July 3 is no picnic, either. Last year, she panted, paced and barked non-stop.
This year, we're going to Lake Arrowhead, where we'll be staying in a pet-friendly cabin. There's a fireworks show on the lake, but: 1) It's high-powered explosives more so than traditional fireworks that bother Bow; 2) Generally, fireworks shows last about 30-40 minutes; 3) Personal fireworks and explosives are banned at Lake Arrowhead. U.S. Forest Service workers and other law enforcement agencies will be out in force.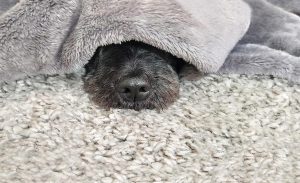 It's nice to know that Bow's likely going to sleep with a calm heart on July 4. Her issues with explosives are common among animals. According to the American Kennel Club, 80 percent of dog owners notice a change in their dogs' behavior during fireworks season and 48 percent say their dogs are scared by them. Because there's an increase in lost dogs during holidays that feature fireworks, the Kennel Club urges pet owners to ensure microchipping details are up to date and dogs are wearing collars and IDs.
So if you're one of those types who likes to light bombs in populated places into the early morning, please know that you're traumatizing pets. Not to get off-track or preachy, but you're making many veterans miserable, too.
Lake Arrowhead info is at https://www.airbnb.com/lake-arrowhead-ca/stays.
Other getaway options are Mt. Baldy and Wrightwood, both in the San Gabriel Mountains. For more information on Mt. Baldy cabins, visit https://bigbearcabins.com/cabins/. For Wrightwood, visit https://www.airbnb.com/wrightwood-ca/stays.
Also, there's Big Bear, Palm Springs, Borrego Springs and, in general, senior communities with no fireworks.
Hurry, cabins, hotels and motels are filling up.
---
Editor's Note:
According to Trupanion Pet Insurance, in July they receive on average a 45% increase in anxiety-related claims, higher than any other month of the year. Staff Veterinarian, Dr. Sarah Nold offers the following advice on beating pet anxiety this 4th of July:
Placing your pet in a familiar environment, where they will feel the most secure during a fireworks show. This could be either a kennel, a bedroom, or a gated-off area where your pet spends most of their time.
Leave the television or radio on, or turn on a fan in a room to help sound-sensitive pets
Consider body wraps, pheromone diffusers, or calming collars to help relax your pet
For more severely anxious pets, anxiety medication could be necessary. Talk with your veterinarian to determine if medication is right for your pet
4th of July celebrations last all day long. Additionally, all pet owner should consider these helpful tips to keep their furry friends safe throughout the day;
Stay Hydrated: If your pet will be outside during festivities, ensure they stay hydrated with plenty of water and have access to share throughout the day
BBQ Safety: Avoid feeding your pet table scraps from a BBQ as it can cause a serious stomach ache. Also, beware of bones and corn-on-the-cob as pets can swallow those foods whole and not be able to digest them properly.
ID Tags: With our pets heading outside, many may run off and become lost. Ensure they are wearing their ID/collars to avoid a stressful moment of panic.