It's summer in Southern California and that means pups and their people are looking for the coolest places to chill out. We sent our tiniest travel correspondent, Boogie Shoes, on assignment to San Diego to "ruff" out an agenda for our next road trip. Get the scoop from the one who knows best what dogs love!
Bow Wow Beauty Shoppe
This is a must for hip dogs, and if you don't feel so hip, you will when you leave. Bow Wow Beauty Shoppe has a treat bar you can belly up to, cool pet carriers, clothes you won't find anywhere else, vintage suitcases filled with the softest toys, and retro refrigerators filled with owner Michelle's gorgeously designed cakes, cookies and treats. Bow Wow offers out-of-sight grooming services for all pets, and won Best Grooming Product 2015 and 2016 for their private line of groomers' apparel. Bow Wow Beauty Shoppe is the bee's knees! Check them out at bowwowbeautyshoppe.com.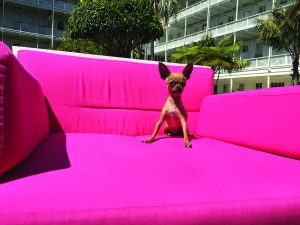 Hotel Del Coronado
The historical Hotel Del Coronado gives pets the VIP treatment. Pet amenities include treats upon arrival, a comfy bed, a gourmet room service menu for you furry friend, and much more. Vet services, dog walking and dog sitting are available upon request. And while you're there, don't forget to take plenty of walks around the historical grounds and find time to lounge in the iconic red beach chairs. Dogs and cats are welcome, but some breed restrictions apply. Book your stay at hoteldel.com.
SoCal Surf Dogs
Your dog can learn to surf on a real surfboard, in the real ocean under the San Diego sunshine. Talk about bragging rights! Connect with the folks at SoCal Surf Dogs to get started—lessons are available for all levels and they even offer some handy tips on their website to help you get started on your own. Summer surf and paddleboard clinics begin in June, and they fill up fast! Let your dog hang ten at socalsurfdogs.com.
Coronado Dog Beach
If you want to feel the sand in your paws and the ocean breeze in your fur, the off-leash dog beach is the place to be. Doggie swimsuits optional, the beach is open from 5 am to 11 pm, so you and your pup can enjoy both sunrise and sunset if you're up for it. The beach is open to the public. Enjoy the sand and surf at coronadovisitorcenter.com.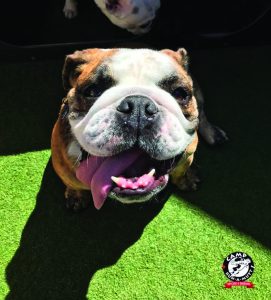 Camp Run-A-Mutt
If your plans include a day or two for humans only, Camp Run-A-Mutt has you covered. This friendly doggie daycare offers full days of play, grooming and overnight boarding. They offer three locations in San Diego County, so no matter where you go, the folks at Camp Run-A-Mutt have you covered. New clients will need to participate in a temperament test, so be sure to call ahead to get the details. Set your pet loose at camprunamutt.com.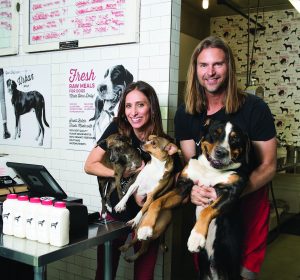 Urban Wolf
They had me at "meat." Urban Wolf is the deli for dogs—a shop with a focus, style and vibe all its own, offering fresh, raw, all natural pet foods and healthy treats made in-house. Urban Wolf uses only the best quality ingredients and cares about your pet's health and well-being as much as you do … maybe more! Get your dog healthy at urbanwolfusa.com.
One thing is for sure, San Diego loves pets, so no matter what area you visit, you're sure to find plenty of pet-friendly activities and accommodations that will satisfy your inner woof.
What's your favorite San Diego spot? Tell us on Facebook or Instagram!