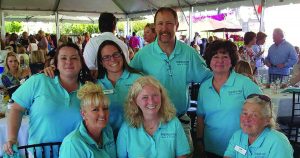 Imagine taking your pet on a two-hour bus trip to see the nearest veterinarian, only to discover you can't afford the preventive care or treatment your pet needs. This is the reality for many residents in the sprawling Coachella Valley, and it often leaves overwhelmed owners feeling they have no other choice but to abandon their furry family member at an animal shelter.
But you won't have to make that painful decision, now that one couple has found a way to provide mobile spay, neuter, and vaccine services to pet owners who can't easily get their pets the care they need. When Melanie Scherer, Founder of Luke's Legacy Spaying and Neutering Foundation, realized that there were not enough accessible, low-cost spay and neuter programs in this area last year, she and her husband Richard took a giant leap and purchased the SNIP Bus.
The SNIP Bus is a state-of-the-art mobile clinic offering $25 spay and neuter surgeries, as well as low-cost vaccines and microchips. SNIP is the first mobile spay and neuter clinic specifically dedicated to the Coachella Valley, and has become a vital tool in the fight to end pet homelessness. In the first ten months of operation, SNIP spayed and neutered over 2,500 pets, and they hope to achieve 5,000 by the end of this summer.
"The strategy that has worked for other communities working toward no-kill is a 'take care of your own backyard first' approach, and that is what we are doing with SNIP. If you want your pet shelter community to be truly no-kill, then support your local spay and neuter program," says Melanie.
Still on the fence about spay and neuter? The most critical role of spaying and neutering is stopping the flow of animals into shelters, but spaying and neutering may also provide additional benefits for both you and your pet, including:
•  Decreased marking and spraying.
•  Decreased roaming behavior .
• Reduced aggression among the population.
•  Decreased risk of ovarian and testicular cancer in your pet, because these organs are removed.
SNIP partners with all Coachella Valley non-profit animal welfare organizations and is funded by Luke's Legacy Foundation, in addition to corporate and private donations. Sponsorship levels start as low as $25, and you can sponsor a full clinic for $2,500. To learn more about SNIP and how to get involved or donate, visit www.snipbus.org.
If you live outside the Coachella Valley and are seeking spay and neuter assistance, visit spaycalifornia.org for Southern California resources.