Buddy is one frisky feline—he loves to chitchat and is looking for a human who will indulge his craving for the spotlight. Sporting gorgeous eyes and Bengal-like swirls, this handsome fellow is quite the dancer, very playful and will always stop for treats. Buddy arrived at Living Free Animal Sanctuary with his brother Tigger after the passing of their guardian. Sadly, Tigger recently passed away, but Buddy is resiliently adjusting to his new singlehood and ready for a new home.
Living Free Animal Sanctuary has been saving lives since 1980, prioritizing pets facing euthanasia in public shelters. The sanctuary is a special place, nestled in the rich history of the mountains, providing a peaceful and loving environment to the animals who need it. Founder Emily Jo Beard wanted to create a space where animals could be safely housed without being caged, and one of the first things you notice as you visit Living Free is the care and attention to detail used in designing the living spaces for the animals. The cats enjoy a cage-free indoor/outdoor cattery, and the dog area is designed to alleviate stressors and promote a quieter environment than typical shelters.
Living Free's cattery is one of the many features that set the organization apart from other shelter and rescue facilities. It provides feline residents the freedom to enjoy the indoors or outdoors at their leisure and to do it safely.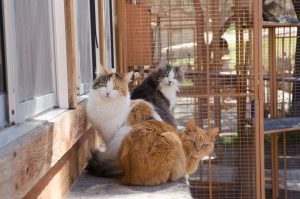 "Our open catteries are designed to simulate a home environment, and allow for a protected outdoor area," reports Living Free's website. "This helps us get to know each cat's personality and any individual issues, proclivities, quirks and foibles (that they'd never admit to), which helps us find the right match for you."
Many public animal shelters are not equipped to care for neonatal kittens or young puppies, provide medical assistance to animals who are injured or ill, or provide long-term care for those animals who may take a little time to find their forever home. Saving the most vulnerable pets from euthanasia makes Living Free an integral part of the no-kill movement within its community.
In addition to saving cats and dogs, the sanctuary is committed to other life-saving initiatives, including wild mustang rescue, outreach and education programming, and a low-cost spay and neuter clinic.
Living Free is a registered 501(c)(3) non-profit organization and relies on adoptions, volunteers and donations to continue their life-saving work. Visit living-free.org to find out how you can get involved or plan a visit.