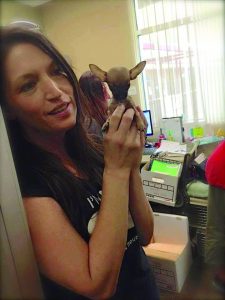 One year ago, during the nationwide adoption event, "Clear the Shelters," a 7-week old Chihuahua, weighing just 12 ounces, was turned into the Palm Springs Animal Shelter. The person who dropped him off said they found him as a stray, but it was clear this little guy had health issues that would prevent him from getting very far in the 100+ degree heat. He had a very distinct "wobble" that made it difficult for him to keep his balance—even to take a few steps. He could barely hold up his head and his little ears were filled with dirt. At the shelter, he was given intravenous fluids and tucked into a little "blanket fort" in the Adoption Office so he could be monitored around the clock.  The shelter staff named him Peanut, because of his size and brown fur.
Alicia Bailey was working at the shelter that day when adoption coordinator Rosemary Ramsay introduced her to Peanut, explaining that he may or may not pull through and he needed to be in a foster home. Alicia picked him up, his little body settled into her hands, his head began to bobble, and she said yes to fostering. "I don't typically swoon over puppies," Alicia said, "but he looked like he was just clinging to life as hard as he could, and I knew I had to help the shelter give him his second chance."
Alicia and her husband Matt had fostered many dogs before, but never a puppy in such critical condition. Bringing Peanut to their home was like bringing home a new infant. "We were so nervous and couldn't sleep because we just wanted to watch him and make sure he was okay. We just didn't know what to expect, and we certainly didn't want to let him down."  They changed his name to Boogie Shoes because whether he was sitting, standing, walking or running, he would wobble and bobble, and it looked like he was boogying down to his own tune.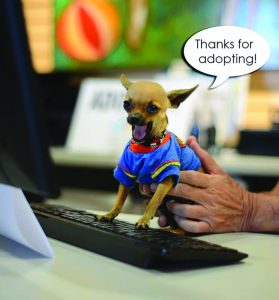 The shelter scheduled an appointment for Boogie at the Veterinary Neurological Center in Palm Desert. During that visit he was diagnosed with cerebellar hypoplasia, a neurological condition caused by an underdeveloped cerebellum. There are many causes that can lead to this disorder including infection, malnutrition, poisoning or injury in utero, and impacts coordination and motor skills.
The Baileys weren't planning on adding another pet to their family, but had fallen head over heels in love with tiny Boogie Shoes and officially adopted him. Boogie Shoes is now one year old, weighs just two pounds and is proof positive that second chances save lives. Boogie has learned to adapt to his condition, and spends his days running and playing the best he can with his big brother (and best friend), Sesame. He does require a few VIP services because of his size. His meals must be in very tiny pieces to avoid choking and drinking water from a bowl is hard – like bobbing for apples – so Boogie gets plenty of water throughout the day through a syringe. Other than that, Boogie is just a regular guy, with a not so pint sized personality!
Matt created a Facebook page for him, and he quickly gained quite a following, which they hope will shine a little more light on special needs pets and pet adoption. Matt concluded, "Boogie Shoes brings everyone he meets so much joy and we have met so many wonderful, compassionate people through his Facebook page. Too often pets with disabilities or health issues are overlooked simply because they need a little extra attention and care. We hope Boogie Shoes will inspire people to adopt from their shelter, and maybe give a special needs pet the second chance they deserve."
Learn more about Boogie Shoes on his website www.littleboogieshoes.com and follow him on Facebook and Instagram @littleboogieshoes.