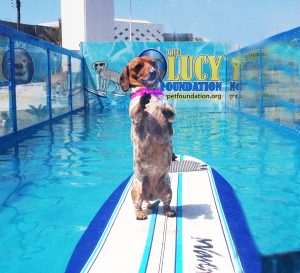 While you're tuning into the Rose Parade this January, keep your eyes peeled for the Lucy Pet Products float—it will be hard to miss, with dogs from around the country surfing their way down Colorado Boulevard. Yes, the dogs will be surfing! It's the first entry for Lucy Pet Products, but the second for the Lucy Pet Foundation, which introduced the first-ever dog-surfing float back in 2012. At 125 feet long, with an expansive 90-foot surfing area, "This year's entry will break the Guinness World Records for the longest and heaviest float in the parade," predicts Joey Herrick, founder of the Lucy Pet Foundation and Lucy Pet Products.
Herrick is the former president and cofounder of Natural Balance pet foods, a company he operated for 25 years. Natural Balance sponsored five Rose Parade floats over the years, until Herrick sold the company and founded his Lucy Pet Foundation. The foundation works to reduce the number of shelter animals that are put to death each year. "80,000 dogs and cats are euthanized every week," Herrick reports. The Lucy Pet Foundation's free mobile spay and neuter van makes spaying and neutering of shelter animals accessible in the local Los Angeles area. Herrick's goal is for the foundation to help place no- and low-cost spay/neuter and adoption mobile clinics in every major city in the country.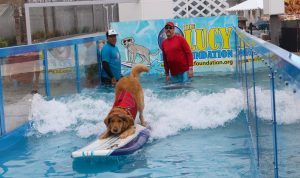 Over the past several months, the Lucy Pet's "Gnarly Crankin' K-9 Wave Maker"—a mobile wave machine on a giant truck bed—embarked on a nationwide tour, searching for talented surfing dogs to take part in the 2017 parade. "This was the first year that the truck was mobile," said Herrick. "The portable wave machine, which is 75 feet long and carries 5,000 gallons of water, is pulled by a 53-foot tractor-trailer chassis, the largest on the road."
With appearances at Universal Studios Hollywood, America's Family Pet Expo, and Bark at the Park with the Oakland Athletics, Houston Astros and NY Mets, "Pet parents from around the country were excited to get a chance to test their dogs' surfing skills for a spot on the 2017 Rose Parade float," Herrick shared.
The mobile wave machine traveled all the way to New York City, setting up on the streets of Manhattan while attending the Mayor's Alliance for N.Y.C.'s Animals' Adoptapalooza in Union Square Park. At the event, the crew got to meet members of the New York Mets, as local "surf dawgs" took their turns shooting the curl on the giant wave maker. A spot on the Rose Parade team requires not only the ability to surf but also a strong focus and nerves of steel. "The dogs will be surfing in front of a big crowd," Herrick said. "They can't be spooked by anything."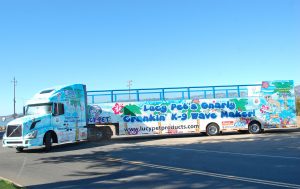 But surfers making their first appearance in the parade this year need not be nervous—they'll be joined by veteran surfer Sully, the 7-year-old English bull dog from Oxnard, California, named after hero pilot Captain Chesley "Sully" Sullenberger. Sully's owner is Ron Davis, the former owner of internationally renowned skateboarding English bulldog, Tillman, who died in 2015. Sully surfed on Lucy Pet Foundation's 2012 Rose Parade surf dog float and will be returning to participate again this year.
At press time, eight dogs had been chosen to ride on the 2017 float, with seasoned surfers hailing from Texas, Arizona, Ventura, San Diego, and Los Angeles.
Making his debut on the float alongside Sully will be Haole (pronounced Howley), from Ventura, California. Haole is an 8-year-old yellow lab who has been surfing for four years. His owners, Kim and John Murphy, report that he made his own choice to take up surfing, chasing John out into the waves one day, trying to climb aboard his surfboard.
Then there's San Diego's Coppertone, the red mini dachshund who was adopted by avid surfers Lori and Heather Signs. Known to "ditch obedience class any chance she got to catch gnarly waves," Coppertone was near death when she was acquired as a puppy. "Her survival instinct has made her an incredible surfer with no fear," say Lori and Heather. Making history as the first dog ever to surf New York City when she traveled with the Lucy Pet Foundation mobile wave machine in September, the very busy Coppertone recently returned from a coast-to-coast surf dog tour.
Golden retriever Turbo, "The Turbonator," will be showing off his moves on the float, having enjoyed his surfing career at Del Mar Beach in San Diego County. Adopted at five months by Gary and Jenna Lavaliere, Turbo was a timid dog who didn't like to be touched. Today, he loves surfing, swimming, running, digging, barking, catching bugs, chasing rabbits, hiking, fishing, kissing and stealing toys.
Any dog can be taught to surf—if, as Herrick points out, they already love the water. "These dogs can't wait to get up on that board," he chuckles. The joy that surfing dogs bring to spectators is almost as satisfying as the attention he is able to focus, through the Lucy Pet Foundation, on the desperate need to adopt shelter animals, whose days are often numbered. Herrick is hoping that the Rose Parade's millions of television viewers will hear his message and be motivated to save the life of dog or cat at their local animal shelter.
Don't miss the surf dawgs' awesome performance at the 128th Annual Rose Parade, held this year on Monday, January 2, 2017, beginning at 8 am PT.