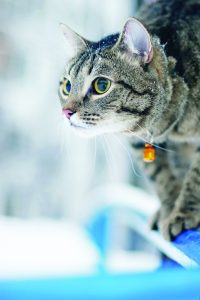 The holidays bring potential dangers to curious cats. Seemingly benign decorations can turn into a medical emergency if ingested, for example. To follow are some things to watch out for to help keep your homes cat-safe during the holidays.
Gift Wrapping:
Ribbons and bows are very tempting toys for playful cats. If ribbon (string or yarn, too) is ingested, it can cause a cat's intestines to  become bunched and twisted, and in many cases will require surgery. If left untreated, this condition can be fatal. Tinsel is another temptation for cats and is also very dangerous if consumed.
Ornaments
What cat doesn't like to bat at a dangling object? Make sure any ornamentation that is low enough for your cat to swat is made of pet-safe materials or is unbreakable.
Poisonous plants
Poinsettias, mistletoe, pine tree needles, amaryllis lilies, red azaleas and paperwhites are some holiday plants which are poisonous to cats. Keep plants away from your cat so it won't be tempted to chew on them. If a plant is ingested, call your veterinarian or the ASPCA's animal poison control center (888-426-4435) for more information.
Holiday foods
If you want to give your cat a holiday treat, stop by the pet store to buy a special cat treat rather than being tempted to let it sample your holiday menu. Rich foods can upset a cat's digestive system.
Christmas tree water
If you have a tree, make sure the water is inaccessible. It can contain chemicals that will make your cat ill.

Stress
Parties and schedule disruptions can make cats ill at ease. If you plan to entertain during the holidays, give your cat a safe place to stay when guests are coming. Put your cat in a secluded area along with food, water and a litter box so your cat can be comfortable away from the excitement. Put a sign on the door to make sure guests don't accidentally intrude on the space.
Traveling with your cat?
Properly secure your cat in a carrier and make sure the cat has adequate identification, including a microchip. If you get separated, your cat has a better chance to be reunited with you if it has identification.
Bring copies of veterinary records along and have the name, number and address of an emergency veterinarian in the area you're visiting in case of an emergency. Having your cat's bowl, litterbox and familiar food along make traveling a less stressful.