People flip over puppies, but a well-loved older dog is one of the most treasured creatures on earth. An older dog has lived through the events of our lives and consistently provides a link to many solid memories, both good and bad. They have the look in their eyes that speaks of years of special love. They have given us unconditional, nonjudgmental love in exchange for one simple thing: our own love and attention.
Your dog's health as it ages is not entirely in your control. Many variables impede our ability to accurately care for aging pets, but you can have a real impact on a pet's attitude, comfort and longevity.
Pets don't know they're getting older. They don't cringe at seeing their gray hairs in the mirror, nor do they worry that their body is thickening, their limbs are aching, or that a lump is growing inside their chest or abdomen. Because they don't talk, they won't let you know that they have a foul taste in their mouth or that by the fifth or sixth time you throw the ball, they're in excruciating pain.
A dog lives in the NOW. His instincts will lead him to do whatever you ask of him, and if you are sedentary, he will join you. If you urge him to run and jump in the dog park until he limps out of there, he'll do that, too.
So how can we best serve our faithful friends?
As your dog ages, increase the frequency and diminish the intensity of his exercise. Instead of taking your dog to the dog park once a week to chase balls to exhaustion, take him each day on one long walk or two moderate ones.
If your dog has degenerative joint disease, consider underwater treadmill work therapy so there is less weight bearing (38% less) in a much more controlled environment.
It is critical that you consider the use of joint nutriceuticals, along with NSAIDs.
Additional helpful therapies include laser therapy, massage, manual therapies and acupuncture.
All senior pets should have two physical exams a year. Health issues in older pets can creep up silently. Your vet should be encouraging biannual exams that include diagnostic testing. Typically, body weight, X-rays, and urinalysis can help spot problems early and establish what is normal for your dog. All dogs need proper dental care to send them into their geriatric years with clean, healthy teeth and a pain-free mouth. The debilitating effects of a painful mouth are often underrated, as this condition can have a tremendous effect on your dog's quality of life.
Provide a soft, cushioned bed that is low enough to easily get into and that is heated, if appropriate.
On smaller dogs, clothes can help regulate body temperature.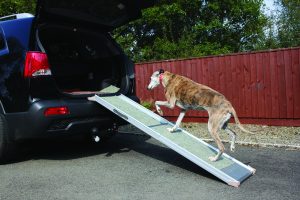 If your dog needs a ramp, try to find one that is lightweight and wide—these kind of ramps can be helpful for climbing onto couches and beds, as well as entering the car or house.
As seniors, dogs don't always require as much food or treats to stay healthy—be careful of feeding your older dog too many high-calorie treats (chicken/meat strips and crunchy snacks). Be sure to take note of the calorie count of any toppers or treats you add to your dog's diet.
Paying attention to the above directives can hugely improve the quality of your senior pet's remaining years. If you have any questions on proper care for aging pets, do not hesitate to call Village Park Animal Hospital for a senior consultation.
Village Park Animal Hospital is located at 51-230 Eisenhower Dr. in La Quinta. Village Park Animal Hospital also
offers grooming services for dogs and cats. (760) 564-3833 www.villageparkanimalhospital.com