Animal welfare organizations are closing their doors due to the COVID-19 pandemic sweeping across the globe and what they need now more than ever is your support. Shelters, rescues, and sanctuaries depend on the combination of adoptions, foster families, volunteers, and funding to continue saving the lives of homeless animals.
Common challenges animal welfare organizations are facing right now:
• Fewer Adoptions.
• Fewer Volunteers.
• Less visitors to facilities due to visitor restrictions & closings.
• Canceled mobile adoption events.
• Canceled or postponed large super adoption events.
• Fundraisers cancelled or postponed.
• Higher intake at public shelters (Extraordinary circumstances like losing a job, or just the fear of the unknown can result in more owner surrendered pets in shelters).
• Foster based rescue organizations are maxing out; limited in the number of animals they can take in.
• Supply shortages.
• Airline transfers are canceled.
• Ground transfers are becoming less available.
We spoke to two Coachella Valley organizations to get a first-hand account of how these rapid moving changes and requirements are affecting their organization.
Living Free Animal Sanctuary Executive Director, Randall Harris shared that foot traffic was already declining due to reduced travel, and that the sanctuary has closed to the public, but in response, they are offering and encourage adoptions by appointment. Unfortunately, the new protocol will result in fewer adoptions than the sanctuary is used to.
In regard to challenges the sanctuary is facing, Harris says in the short term they are focused on keeping their team healthy and safe but it's the long term that holds much more uncertainty.
"Because we are a non-profit, no-kill sanctuary, we take no government funding, and depend entirely upon charitable contributions to continue our work. Non-profit support is among the first things people cut in a crisis, which is completely understandable. However, we rely on funding to keep our facility open and continue to provide extraordinary care to the animals who are living here. Regardless of viruses and economic conditions, we have 200 rescued animals to feed and care for."
Michael Phipps Russell, Executive Director of Loving All Animals shared that they have cancelled several fundraising events and mobile adoption events as a result of the current health guidelines. They have also closed their facility to the public and adoptions are now by appointment only.

As a result of fewer adoptions, they will also be decreasing the number of animals they are able to take in.
Both Harris and Russell fear what this will mean for companion animals down the road as more and more owners face hardship due to the economic impact of COVID-19.
"There is the real possibility that the economic situation could adversely affect how animals are being cared for in our community's households, " stated Russell.
How you can help:

Donate
Funding is critical. Non-profit organizations suffer during a crisis, but they still have animals to care for, staff to compensate, and other overhead expenses. Donations of any amount are deeply appreciated.

Foster
If you are now working from home or have been laid off, fostering is a great way to help the animals and bring a little love into your home. Most foster programs cover all expenses for the animal, you just provide your home and unconditional love.

Adopt
Consider adopting. If you are now working from home and/or the kids are home, it's the perfect time to adopt. Welcoming a new pet into your family is something the entire family should participate in.

Social media
Like and share posts from animal organizations on social media. This helps animals be seen, helps them meet critical fundraising goals or supply needs and it's FREE.

Donate supplies
Many organizations have wish lists on Amazon.com and items can be delivered directly to the organization.

Ask how you can help!
Visit your local shelter or animal welfare organization's website, call, or email and ask what you can do to help to help right now.
---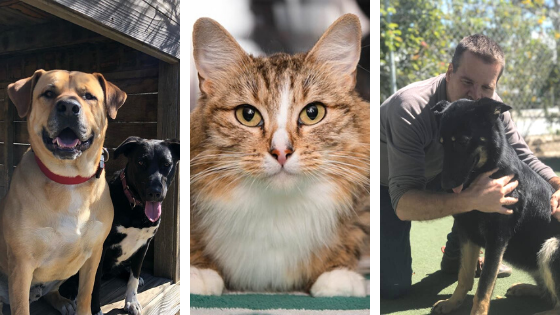 ---
Closures affecting the Coachella Valley and Riverside County:
ANIMAL SAMARITANS: according to Facebook on 3/19/20 The animal shelter is closed to the public, but is accepting adoption appointments. At their clinics, veterinary services are still available, please call for an appointment and current protocols for patient check in/pick up. Phone: 760-343-3477 www.animalsamartians.org
HUMANE SOCIETY OF THE COACHELLA VALLEY: please call or check their website for updates. 760-329-0203 https://orphanpet.com/
LIVING FREE ANIMAL SANCTUARY: the sanctuary is not open to the public but is accepting adoption appointments. Phone: 951-659-4687
www.living-free.org
LOVING ALL ANIMALS: their shelter is not open to the public but they are accepting adoption appointments. Phone:760-834-7000 www.lovingallanimals.org
PALM SPRINGS ANIMAL SHELTER: according to their Facebook page as of 3/17/20 – Closed to public but taking adoption inquires, surrender, and stray services by appointment only and are offing limited vaccine and microchip services. Phone: 760-416-5718 www.psanimalshelter.org
RIVERSIDE COUNTY ANIMAL SERVICES: according to their Facebook page on 3/19/20 – the shelter is open to the public but limits 5 people inside at a time and social distancing rules apply for counters lobbies and adoption areas. They are encouraging the public to take advantage of online services like citations, licensing, looking for lost pets, and to come prepared with the animal ID # if you are interested in adopting. Phone: 951-358-7387 www.rcdas.org Coachella Valley Animal Campus 760-343-3644 –
*All organizations are accepting online donations, and encourage you to follow them on social media to view adoptable pets, urgent needs, and any news updates.