by Sarah Scorgie
San Diego Humane Society's Humane Officers
When they show up for work each day, San Diego Humane Society's Humane Officers have to be prepared for anything. In the field 7 days a week, these officers have the power of police to enforce animal related laws. They are the go-to support system for 14 cities throughout San Diego County when residents need help with everything from barking dogs and injured wildlife to the most heartbreaking cases of cruelty and neglect. Driven by compassion and a commitment to keeping animals and the people who love them safe, Humane Officers also take every opportunity to educate community members about how to properly care for pets.

Their job is vital—and it's anything but easy. Heartbreaking situations are all too common, such as in late October, when a good Samaritan found two young shepherd mixes who had been left to die in a small shipping container at the Buena Vista Lagoon in Oceanside. The dogs, one male and one female, were so emaciated that they were unable to walk on their own. Both a year old, they were so malnourished that rescuers initially thought they were puppies.

San Diego Humane Society's officers responded to the scene and showed the dogs the human compassion they so desperately needed. But as one dog was being gently carried into the organization's Oceanside Campus for care, he passed away in the arms of an officer. The other dog was in so much pain, and his prognosis was so poor, that San Diego Humane Society's compassionate medical team had to relieve his suffering by immediately performing humane euthanasia.

A good Samaritan found two dogs who had been left to die in this small shipping container. He made a difference by calling the San Diego Humane Society.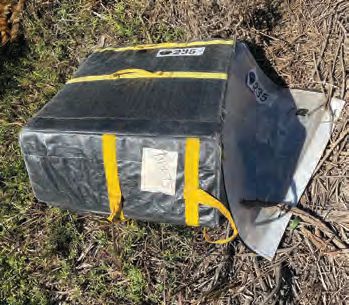 Although they weren't able to save the dogs lives, Sgt. Melanie Hutchinson found hope in the midst of tragedy. "Those dogs died in somebody's arms, rather than in a lagoon under a bush," she said.
For those of us reading about a situation like this, it's unimaginably heartbreaking. For our Humane Officers, responding to tragedy with compassion and dedication is part of their daily work. So is doing everything they can to educate the community to ensure these entirely preventable moments never happen in the first place.
"These dogs were without proper nutrition for a very long time to become so emaciated," said Chief of San Diego Humane Society's Humane Law Enforcement Bill Ganley. "There's never a reason an animal should get to that state. We're here to help people who can no longer care for their pets, so that no animal has to suffer such a tragic outcome."
San Diego Humane Society offers a wide range of resources to support pets and people in times of crisis. As an open admission shelter, the organization will never turn away an animal in need. It understands that there are life situations that may prevent people from being able to properly care for an animal, which is why pets are welcomed without judgment.

For community members who want to keep their pets but need help affording proper care and nourishment, the organization offers plenty of support—from free pet food and supplies, to access to affordable veterinary care.
And for those witnessing cruelty and neglect, San Diego Humane Society offers a 24-hour Humane Law Enforcement Dispatch line. In the case of the two dogs found at the lagoon in Oceanside, a phone call from the good Samaritan allowed the animals to know love in their final moments.
"He's a true hero," Sgt. Hutchinson said. "He called us. He did something."
To learn more about San Diego Humane Society's Humane Law Enforcement program, or to learn how you can take action to protect animals in need, visit sdhumane.org.
---
Food Pantry Resources for Pets
Many organizations throughout Southern California provide assistance for pet owners facing hardship. Below is a list of organizations with Food Bank resources for pet owners. Additional resources can be found on our website, petcompanionmag.com.
Helen Woodward AniMeals: Free dog and cat food for seniors or people with disabilities; recipients must go through a local human service organization (partners listed on website). (858) 756-4117, ext. 341 animalcenter.org
Rancho Coastal Humane Society: Community pet food bank open every Saturday, 9 a.m. to 11 a.m. at RCHS, 389 Requeza Street, Encinitas, CA 92024. (760) 753-6413 rchumanesociety.org
SSNAAPE: Senior Special Needs Animal Assistance Project Endeavor provides free pet food, transportation to veterinary and grooming appointments and financial assistance for veterinary care as resources are available. (760) 451-8961 (760) 728-0249 ssnaape.org
San Diego Humane Society: Through the Community Pet Pantry, anyone can visit their campuses in El Cajon, Escondido, Oceanside or San Diego to pick up a bag of dog or cat food, and other supplies, as available. No appointment is needed. Tuesday-Sunday 10 a.m.– 6 p.m. More information at sdhumane.org
Downtown Dog Rescue: This Los Angeles-based dog rescue offers free spay/neuter services to low-income and homeless pet guardians, a shelter intervention program to keep pets and their people together, and a pet resource center. (818) 407-4145 (323) 880-8259 downtowndogrescue.org
OC Animal Allies' No Empty Bowls helps people in Orange County who need time to get back on their feet while preventing their pet from going hungry or being relinquished to a shelter due to lack of resources. ocanimalallies.org/our-programs/no-empty-bowls
Pet Food Bank Palm Springs Animal Shelter: This community food bank helps pet guardians keep their pets in their homes by providing pet food to those in need in the Palm Springs area. (760) 416-5718 psanimalshelter.org/pet-food-bank
RCDAS Healthy Pet Zone: Their goal is to help pets and families stay together. Programs include a food pantry, pet behavior support, and more for Riverside County residents. (888) 636-7387 (PETS) rcdas.org/index.php/services/healthy-pet-zoneCharacter count: 5810SAVE