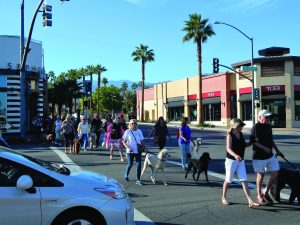 During "season" here in Coachella valley, one can see the most unusual things: Canadians observing the speed limit, a festival dedicated to tamales, camels and horses grazing on golf courses to naturally aerate and fertilize the soil, and on the first Saturday of every month a parade of Standard Poodles!
The Standard Poodle Club of the Desert started as the brainchild of Meg Doolittle and Donna Jiaras in 2003 as they were walking their Standards down El Paseo in Palm Desert. Over the years it has grown to a membership of over 350 dogs. To paraphrase their Facebook page: "The club has no membership fees or sign up costs. It is a collection of Standard Poodle owners who love their dogs and the primary purpose is to socialize them with other Standard Poodles. It is fun for the dogs, and their human companions have many stories to tell about their beloved loyal friends. One of the simple pleasures of having Standard Poodles is showing them off to the world…" And that, they do.
You'll notice that they mention only Standard Poodles. This is a very exclusive club. Toys and minis should form their own clubs. These larger "original" form of the breed are extremely intelligent and are being used more and more as guide dogs because of their gentle and empathetic behavior or as therapy dogs visiting hospitals and hospices (see the story on our cover dog, Diva).
Each Standard Poodle "Promenade" starts with a "meet and greet" at 8:30 am at The Gardens on El Paseo in Palm Desert. After socializing and getting instructions, at 9 am 50 to 100 dogs and their humans head west for 1/2 block to San Pablo and cross over to the north side of the street at the signal where people stop drinking their coffee on the patio at Starbucks and stare and smile as the walkers all wait for the signal to change.
They continue west for three blocks to Ocotillo Drive and cross back over to the south side of El Paseo, literally stopping traffic for a few minutes before they reverse direction and continue back to the Gardens on El Paseo.  This parade of "oodles of poodles" of every color (most natural … some not so much) that have been groomed for the occasion literally stops joggers in their tracks, makes young children applaud, and finds no unhappy motorists, some who pull over and jump out of their cars to take pictures, even when this truly unique band of marchers stops traffic for a couple of minutes.
After the walk, interested members and friends meet for breakfast on the patio of The Backstreet Bistro with their poodles. The dogs get bowls of water while their owners reconnect with friends and have stimulating conversations over breakfast. The mission of Standard Poodles of the Desert "is to have fun, socialize our Standard Poodles, help homeless poodles find a loving family and help our favorite charities, Animal Samaritans and Guide Dogs of the Desert."
If you would like more information, go to their website, www.spoodles.org, or visit the Standard Poodle Club of the Desert's Facebook page.  If you just want to view this parade of spectacular animals, the next one is on December 3rd.