If I were to mention The Pet Rescue Center to you, you'd probably ask "which one?" If I said, "The one in Coachella," you'd probably say you've never heard of it. In spite of the rather generic name, fortunately, some people know about it, including actress Cindy Williams, and they have helped keep "The Pet Rescue Center, Inc." in the business of sheltering dogs and cats through contributions or being volunteers for the past 19 years.
Sitting on a large property on the corner of Avenue 51 and Calhoun Street, The Pet Rescue Center, under the direction of Christine Madruga, houses up to 25 dogs at a time, from weeks old puppies to one old codger named Snoop Dog, who's a permanent resident because he's a grump. From the outside, one would think this place was just a nice house on a large lot (well, except for the sign out front…), but as you approach the door, you can see that this is a special place with a well-kept garden and a sign on the door asking you to keep your horse outside.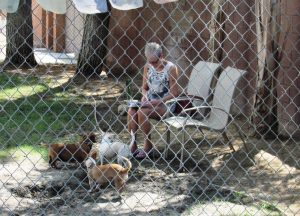 As we arrived, there was a woman sitting in one of the fenced yards with three dogs. She had brought her two dogs (one which she had already adopted from here) in order for them to get use to their new family member before taking him home. 10,336. Christine directed us over to another large enclosed tree-shaded lawn area that had been set up with an obstacle/agility course.  Here I was introduced to Jim Turcott and his Papillion, Jax, as well as a couple of folks and their dogs who were there to demonstrate what they have learned under Jim's agility course instruction.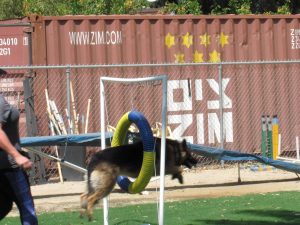 The course was set up with several jumps, a hoop, a tunnel, an A-frame ramp, wave poles, a teeter totter and a start/end platform.  According to Jim, this is the only outdoor obstacle course in the valley and is not only used for teaching purposes, but teams use it as well in order to get ready for competitions. As the dogs and owners demonstrated the course, Jim explained, "Agility training is a great way for an owner and a dog to bond in an activity that is fun, recreational and requires teamwork and mental discipline." Agility exercises are good for dogs, especially those with high energy. It keeps them mentally stimulated and in good shape. Owners can get a bit of a workout as well. They must learn how to get the dogs to work the course by offering encouragement and rewarding successes.
Jim is a volunteer who teaches 6-week "agility camps" throughout the year.  The course is only $100 and all proceeds are donated to The Pet Rescue Center.  Jim will also be conducting puppy socialization classes, which are six-week courses at Venus de Fido starting in September. Jim is not the only volunteer here, but Christine could always use a few more to help her out.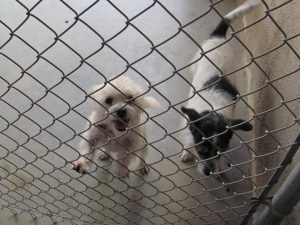 After the agility demonstration, Christine brought us into the house with wall-to-wall kennels, each decked out with clean blankets and each animal's name on every door. "When we bring them in at night, we've already placed a small piece of hot dog in each kennel.  They all line up at their respective 'houses' and can't wait to jump in for bed time," says Christine. When new animals arrive, they are put into a "receiving area" with other new arrivals. As they acclimate and learn to socialize, they are added to the main population in the larger fenced off area with a large patio, lawn and shaded area.  Everything is well kept and clean, which is an ominous task with around 25 dogs to care for at any given time. At the time of our visit, almost all the dogs were smaller Chihuahua and terrier mixes, all wanting attention and someone to pick them and take them home.
Back inside, I found my friend, Theo, on the floor, smitten with a huge Alaskan  Malamute named Charr, who belongs to Christine's "right hand guy," Cole. Near the kitchen was a small enclosure on the floor with six adorable Chihuahua puppies that had been abandoned with no mother to be found. Under the care of Christine and her volunteers, these pups are healthy and starting on solid food.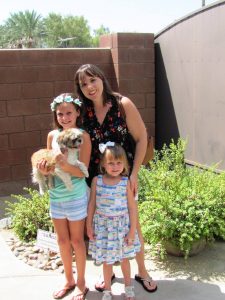 As we were leaving, I opened the front door to find a woman and her two daughters just about to ring the doorbell. They were there to finalize the adoption of Chewy, a Maltese who does resemble Chewbacca of Star Wars fame in a miniature way. 10,337.
What are those two numbers about?  In the time that we were there, The Pet Rescue Center, as of this writing, has saved 10,337 dogs (as well as over 8,000 cats). Chewy was number 10,337.  If you are interested in adopting, their fee is nominal and includes all vaccinations, spay or neuter, a clean bill of health from a vet and micro-chipping. If you would like to volunteer a little time or donate to help keep this vital center open on the east side of the valley, I'm sure Christine would be thrilled to hear from you. Come by for a visit. Adoption hours are from 9 – 3 M-F and 10 – 2 on Saturday. They are located at 83-496 Avenue 51, Coachella, CA 92236.  For more information on the dog agility program, contact Christine at (760) 398-7722 or talk to Jim directly at (206) 380-7776. If you would like to see some of the dogs that are available, as well as get some great general dog-care information, visit their website at coachellapetrescuecenter.org.