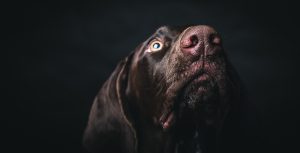 K9 Nose work is a fun, low-key sport that takes advantage of dogs' amazing sense of smell and their love of having a job to do. In the same way Rally-O is a relaxed version of obedience competition, K9 Nose Work is a reward-based activity open to dogs of all sizes, temperaments, and scenting abilities. If your dog has a nose, he can play this sport.
The goal in K9 Nose work is to train your dog to search for three scents: birch, anise, and clove. But you begin with kindergarten-level searches for a favorite toy or treat. Aside from advancing levels of classes and competitions, this is a sport you can easily play in your yard, or anywhere.
K9 Nose Work is excellent mental stimulation for dogs. Using what amounts to their super power—those 300 million olfactory receptors in their noses—to solve problems and be compensated for the effort with a favorite reward is just about any dog's idea of heaven. Unlike agility or flyball, K9 Nose Work isn't physically strenuous, so dogs of all ages can participate. It's also a great activity for young or shy dogs because it builds environmental and social confidence. Finally and most importantly, K9 Nose Work was designed to be easy to get started on, which makes it fun for dogs and humans alike Check out our website www.dreamdogs.com for upcoming nose work classes.