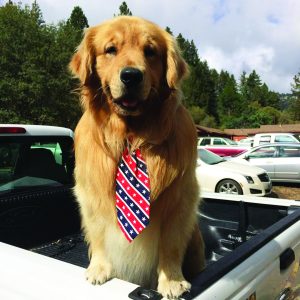 Drive up 'the hill' to Idyllwild for a
pet-friendly escape
Are you tired of imposing on your friends or spending a fortune on pet care when you go away, only to miss your pet the whole trip? Looking for a place to relax without having to leave your pet at home? Just 45 minutes above the desert floor is a pet lover's getaway known as the "island in the sky." Perched in the San Jacinto Mountains, Idyllwild is consistently 25 degrees cooler than the desert, making it a perfect place for hiking and rock climbing—and a perfect place to escape with your pet.
Strolling through the artsy community, you'll see dogs on every corner, dining on the patios of most restaurants, and welcomed in just about every store and gallery. Bowls of cool water stay filled outside most businesses, and dog treats are offered all over town to four-legged visitors.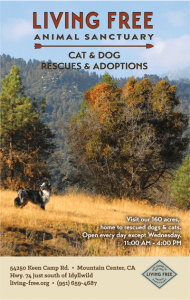 Idyllwild's heart for pets begins with its animal rescues. Living Free Animal Sanctuary is a beautiful, 150-acre rescue, where dogs and cats enjoy roaming free in large, protected outdoor spaces. Dogs are walked daily and go out to play in the central area, protected from snakes by an in-ground barrier fence. The cattery is exceptional—cats can be indoors or out as they wish, with a large screened-in outdoor space. Each fall, Living Free holds its annual "Howl and Yowl Benefit for the Animals," a full day of music, demonstrations, dog training, and adoptable cats and dogs.
Also in town is the Animal Rescue Foundation (ARF), "the little rescue with the big heart," which recently held its annual fundraiser, ARF's "Paws for Rhythm and Brews" beer festival, on June 4th. With music, craft beers, and a silent auction, the event is ARF's biggest of the year.
Idyllwild is also home to Natural Monarch Raw Pet Food, founded by Ben Davis, who is passionate about educating pet owners about the effect their pet food has on their dogs. Davis owns and operates a professional grooming shop, a 24-hour pet daycare and a retail pet supply store in town.
When you visit Idyllwild, you'll find a variety of bed and breakfasts and numerous campgrounds to provide a comfortable stay for you and your pet, as well as the Quiet Creek Inn, which offers pet-friendly studios and one-bedroom suites. Almost every shop in town will welcome both you and your pet, and some offer treats for your dog, like Let It Shine Gallery, a gift shop that boasts an art gallery specializing in pet portraits painted on stone, and sells other unique items you've never seen before. In Let It Shine, you can enjoy the art, pick up a souvenir or find an unusual gift. You might even catch a glimpse of owner and artist Terri French painting portraits in her studio.
Hubert Halkin is the "accidental owner" of Café Aroma, the hot spot in town for dining with your dog. Dogs dine with their humans on the wifi-equipped patio, and it's rare to see an outdoor table occupied by someone without a dog at their feet. The culinary masters at Café Aroma create beautiful dishes with French, Nuevo Latino, Asian and SoCal flair, and serve them with fine wine, microbrews and spirits. Inside, there is a gallery of changing art collections displayed on the walls. At night, the patio becomes an outdoor stage, home to local, regional and national musicians—it's known as the "Madison Square Garden" of Idyllwild and is one of the main reasons Café Aroma has such a large clientele of loyal locals and visiting guests.
With cooler temperatures in the summer, snow in the winter, and—most importantly—a warm welcome for your pet, Idyllwild is the ideal vacation spot if you just can't leave your pet behind!
This article appears in the Summer 2016 issue, page 66.