A treasured 1990's children's book series, written and illustrated by New York illustrator, artist, and author Maira Kalman, is back in print. The star of these books, a dog named Max Stravinsky, is once again delighting children and adults everywhere as one of Kalman's most beloved canine characters. These tales about the charismatic brown dog are back in circulation thanks to The New York Review Children's Collection, which makes new classics of favorite children's titles, introducing them to a new generation.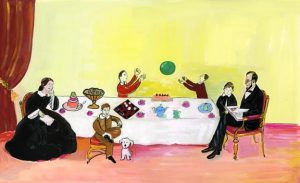 The author's loyal fans have touted these clever dog-themed books for decades, and now a whole new audience is falling in love with Max, the charming poet who longs for adventures in faraway places. He was first introduced in Kalman's first children's book, Hey Willy, See the Pyramids, where Kalman says she fashioned Max after herself. In Max Makes a Million , he sells a book for a whole lot of money then heads for a glamorous life in Paris. In Ooh-la-la, Max in Love, while hanging out with the bulldogs and poodles in gay "Paree," he falls in love with "that divine dalmatian," Crepes Suzette. In Max in Hollywood, Baby, Max peddles his script for a "sugar-smackin, rootin-tootin, high-spy, sci-fi…madcap musical mystery" around Tinsletown. And the hijinks continue in a series of Max-themed volumes.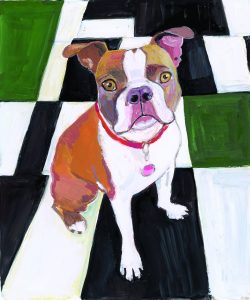 Kalman's quirky illustrations are instantly recognizable—she's widely known for her The New Yorker magazine covers and other adult literature—but for her children's books, it all about the adventurous Max, his canine friends, and plain language mixed with wit and even sarcasm. She has a firm grip on the dog's perspective, as well as the way the words sound to a child's ears, which she says is most important. Take this passage, for example: "Bonjour, Monsieur Max, allow me to introduce myself. I am Fritz from the Ritz which I quit in a snit when the chef in a fit threw escargot on my chapeau and hit my head with a stale French bread." In one sentence, the reader gets a unmistakable mental picture of Max's new friend in Paris.
Kalman's love for dogs drives her to work them into many of her drawings, and not only in her children's books. In addition to the The New Yorker, her illustrations can be found in some of her earlier works like The Principles of Uncertainty, My Favorite Things, and her illustrated rendition of Strunk and White's The Elements of Style: Illustrated. "The dogs just keep appearing," she told Vogue magazine. "I have so many photographs of dogs from all over the world. It never ceases to amuse me."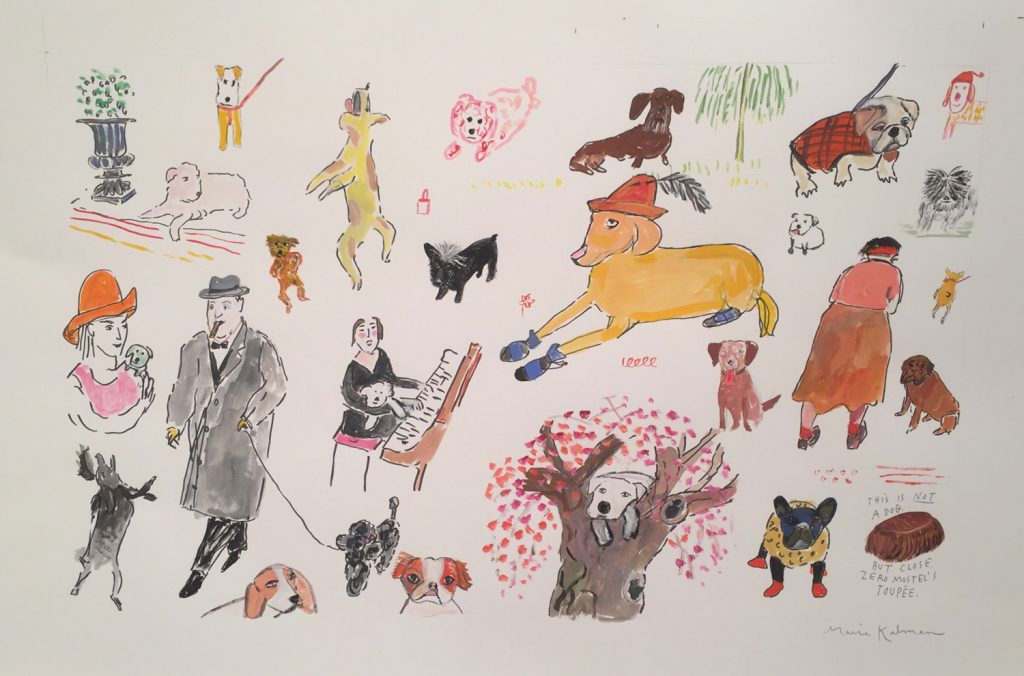 Desert resident and dog rescuer Rocky Randall, one of many Max fans, speculates. "Max has something relevant to say about his spin on travel from Ooh-la-la, Max in Love, to Swami on Rye: Max in India. The author has Max exploring the meaning of life, but it's the inner child in an adult who benefits the most."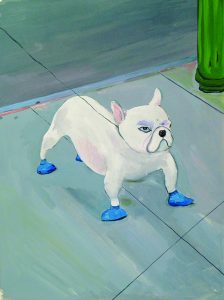 The author's clever depictions are anything but realistic—instead, they cleverly bring out the personality of the dogs she writes about. "They put a smile on your face," says Jim Dunn, owner of two dogs—one born in Brazil, Lulu, and her pal, Parker, a rescue. Dunn says, "The author has a gift for intermingling life from a dog's perspective with provocative illustrations that bring out a dog's personality. I would go as far to say the combination makes the author's stories a classic in canine literature."
But how did Maira Kalman come to be the Shakespeare of literature, knowing that nary one dog is able to read her books? "I think it's about the author's clever illustrations. I'm sure they could lure a few patient dogs to browse," says Grace Robbins, herself an author and mother to Luke Skywalker, her constant companion.
Kalman admits that she used to be afraid of dogs. She told The New Yorker, "I think it's a legacy—I went to Belarus [in the] summer and met a bunch of dogs in the villages where there are no longer Jews …. Well, those dogs were pretty fierce, pretty vicious! The stories they tell in those villages is that the Jews didn't really have dogs, and the people who had dogs trained them to be quite vicious to the Jewish people in the community. I'm sure there were exceptions, of course, but somehow that got translated into children in my family being told "A dog will attack you." So I would see a dog, and I'd pass out with fear. having heard stories growing up about dogs being . "I was brought up to be really terrified of dogs and the idea of a dog coming near me made my blood run cold."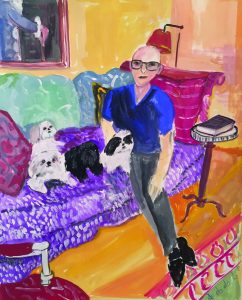 But when her husband Tibor fell ill, a friend recommended she get a dog for their two children, and that's how Kalman found the "funny and scruffy" Pete, who later became the main character in some more children's books. "It became a love story; I took care of him," she explained. "He was a new person in my life, [and] we became inseparable. Our relationship became a story, and I drew Pete constantly. He never complained. One of my illustrations inspired by Pete was published on the cover of The New Yorker magazine."
Kalman never misses an opportunity to slip a subtle image of a dog on her book covers. Looking at Lincoln is a children's book with irresistible images both aimed at children and appreciated by adults. One look at the cover reveals a little white dog, transfixed, looking at Lincoln? You'll find a dog looking back at you in many of Kalman's adult and children's books.
Kalman was recently honored in May during Jewish American Heritage Month (JAHM), which this year was themed "American Jewish Illustrators," commemorating the contributions that Americans Jews have made to the nation's history, culture and society. Along with others, Kalman was honored as one of "the many American Jews who have helped create the nation's beloved children's books, iconic superheroes and cartoons," said Ivy Barsky, CEO and director of Philadelphia's National Museum of American Jewish History, the lead sponsor of JAHM and an affiliate of the Smithsonian institution.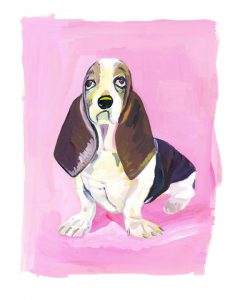 Giving a voice to dogs she "adores," and adding equal doses of intelligence and humor, Kalman opens doors and turns pages for her fans, both young and old. She makes us believe in a fascinating, limitless world of dreams that surely live in our dogs' imaginations, behind those floppy ears and soulful eyes. We all know our dogs understand us, and we want so much to understand them, too. After all, Kalman says, "The most tender, complicated, most generous part of our being blossoms without any effort when it comes to the love of a dog."
Maira Kalman is represented by Julie Saul Gallery, 535 West 22nd street, New York, NY 10011.