Ah, Borrego Springs … come admire the breathtaking super bloom (a bonanza of wildflowers), scan the starlit high desert sky, stargaze at the Visitor Center or sample the cinnamon-glazed roasted nuts at the Borrego Springs Fudge Company. Whatever activities you choose, you and your canine companion couldn't ask for a finer desert hideaway to explore.
The welcome mat is out for you and your pet companion at La Casa Del Zorro Desert Resort & Spa. Nestled in a serene site on Yaqui Pass Road, Borrego Springs, in San Diego County, La Casa Del Zorro is what every dog dreams about. No elevators, lots of walking paths, free bicycle rentals and more cacti that you can count—they're all part of the 42 acres of dramatic desert terrain. The reasonable $50 pet charge covers three nights.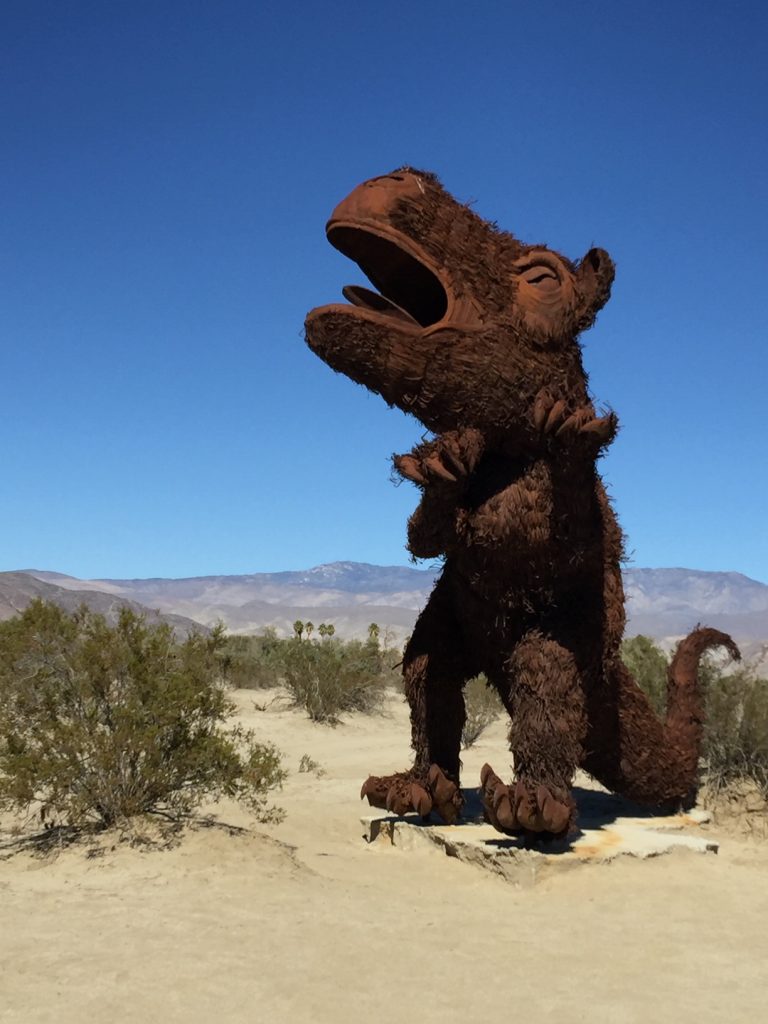 Your "travel dog" is also welcome to explore Galleta Meadows, land owned by the late Dennis Avery, who came up with the vision of adding free standing art to his property with original steel welded sculptures created by Perris Jurassic Park owner/artist/welder Ricardo Breceda of Perris, California. The prehistoric-inspired desert site showcases Breceda's sculptures in the midst of a desert dreamland, with creatures that defy even a dog's imagination from the spinosaurus (WF-3 on the Sky Art Map) to the comphothere/camelops/giant tortoise (FT-7). And there's much more for them to inspect, including the Tyrannosaurus rex, gracile sabertooth cat, and an unexpected 1946 Willys Jeep. And whether you bring your Maltese or standard poodle, remember to keep them safe by keeping their leash firmly in hand.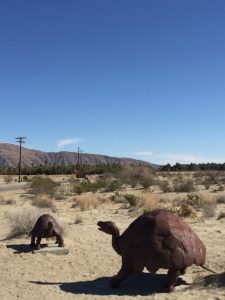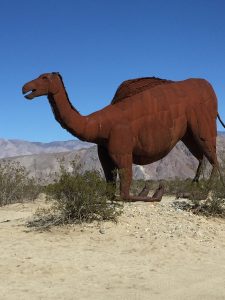 The good news for people and their pets—specifically dogs—is the "Dogs in the Park" policy mandated by the California State Parks! I quote: "Dogs are allowed in campgrounds and on direct roads in the park. They must be on a 6-foot leash and may not be taken on trails or cross-country. This is for the safety of your dog. Rattle snakes, coyotes and cactus are common hazards, and it is common for dogs to suffer from burned pads on their feet." Therefore, to be forewarned, pack what is essential, especially ample water to avoid accidents and burned paws!
While some favorite restaurants, such as Carlee's in the heart of charming Borrego Springs, do not allow dogs nor do they have a patio, you can revert back to La Casa Del Zorro's The Fox Bistro for breakfast, lunch, or dinner, where the lovely Rose Garden Terrace is always pet friendly.
For more information, check Partners with the Park at www.theABF.org, www.parks.ca.gov, LaCasaDelZorro.com, and www.borregospringschamber.com. They can get you and your pet on the right road to visiting this dog-friendly desert getaway.
Our official driver and guide, Sue Townsley, predicted the 86-mile ride from Cathedral City, California (our home base), would take less than two hours and she—as always—was correct. That included a ride through the verdant wildflowers off Hwy 22 (this medicore road through Imperial County vastly improves right about where you see the San Diego sign). "This usually serene highway goes into overdrive during the super bloom," said David Parker, who was visiting the wildflowers with his dog, Hamilton, on St. Patrick's Day. He says it's best to visit during the week, when crowds are down.
Retrieve the latest on BorregoBlooms.org.