By Felipe Reisch, Exquisite Air Charter
Rena Davenport, Exquisite Air Charter CEO, and former pet clinic manager shares her thoughts on how the travel industry, private aviation specifically, has adapted to the growing pet-friendly trend.
'Pets before profit' is how I like to call it. Near and dear to my heart is how various industries are finding ways to provide solutions for pets all around the globe, enabling owners to extend their love towards their animals while eliminating many recent behavioral barriers. This did not happen overnight and while families have always valued their furry friends, there was a gap in how businesses understood them and their entire role in society.
A wide spectrum of businesses today support a pet-friendly environment, from high-end hotels, barber shops, and restaurants to luxury travel. I can strongly speak about the latter while leading Exquisite Air Charter since 2004, a private charter company that supports owners by transporting their animals to different corners of the country and the world. I can safely say that luxury travel is likely one of the most prepared industries to support the pet-friendly boom, with private aviation leading the way. Here is why.
Owners treat their pets as their own children, and they require solutions that are up to the task. Private jet travel is the most complete service when flying pets, allowing them to travel alongside their human families in the cabin while also carrying along all their treats, toys, and favorite blankets.
Flying can be distressing for animals, especially when traveling without their human family. This is the unfortunate case with commercial airlines – most of the time pets are required to fly in the cargo compartment (small animals and emotional support animals can fly in the cabin but there are strict limitations) and sometimes injuries might happen while also being traumatized by the experience. In contrast, on a private jet flight, after checking in, pets and humans walk straight to the airplane, and, more importantly, animals can walk freely in the cabin with the appropriate flying conditions.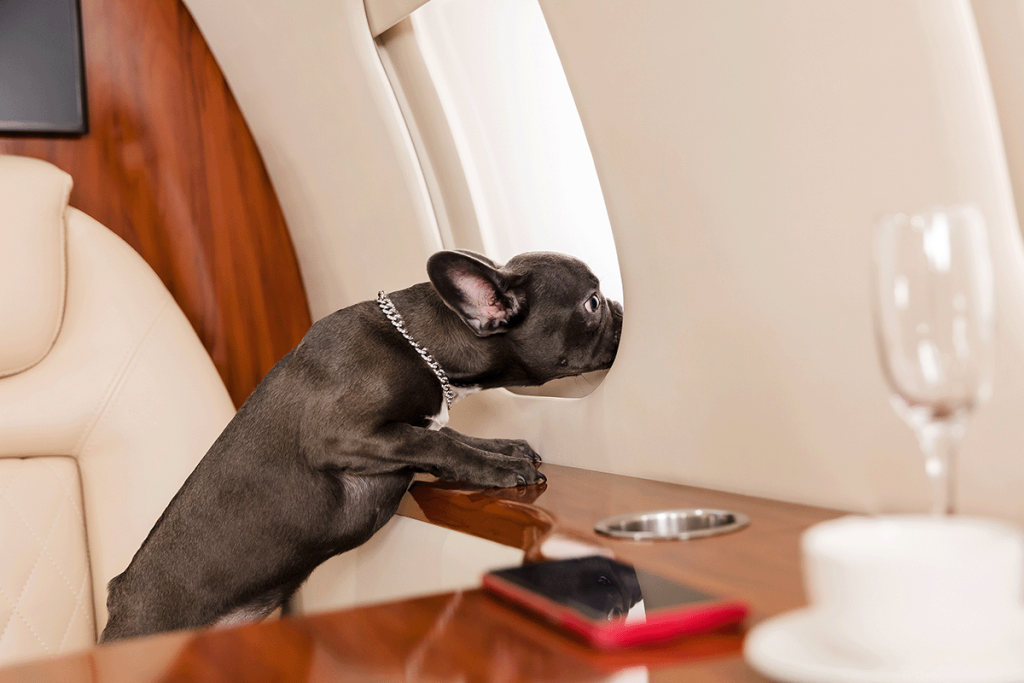 Furthermore, growing in popularity is the fact that pet owners are chartering a private jet for their pets to fly alone alongside a loving crew or cabin attendant, relying on the safety and comfort of the entire experience. In fact, in recent months, with the increasing pains of commercial flight cancellations throughout the world, thousands of pets were left stranded at airports, as reported here, and private aviation was the only solution for many caring owners.
On the same line, private jet flights for relocation purposes usually have a pet or two in the cabin with their owners while avoiding sending them to commercial cargo compartments. This trend has become so popular that it hit the mainstream media with a dedicated article in The Wall Street Journal, showcasing the real value of this industry as well as the possibility to share the cost of a charter flight with other owners.
Transport beyond aviation
It is well known that for decades animals have been traveling in airplanes. In fact, renowned for this service is the The Dutta Corporation, in charge of the logistics for flying horses, for leisure or competition, since 1988. Furthermore, this service as well as chartering a private jet are somewhat expensive. Gladly, there are also a wide array of transportation options, like-long distance driving RVs and motorhomes.
Companies like Limelight Limousine in Los Angeles provide this option, which is perfect for people looking to relocate pets but who cannot afford private charter options, as passengers can enjoy the sight and sit comfortably with their pets. There are also apps like Doobert.com to search for available animal transport volunteers to arrange the rescue and transport of an animal. Another alternative worth considering is Truckers Pet Transport, a non-profit organization based in Texas comprised of regional and long-haul truckers who volunteer their time to transport needy pets.
Recommendations for flying your pet on a private jet
Safety always comes first when flying your pet. For starters, the safest way for a dog to fly is with a body harness or a travel crate while smaller dogs and cats can be in a carrier that is attached to a seat belt during takeoff and landing. Further suggestions are bringing food and water, toys, treats, and favorite blankets, as the flight might add stress to their routine.
Also, as part of the checklist, at Exquisite Air Charter, we help owners navigate destination-specific requirements that may include pet passports, vaccination history, microchip documentation, health certificates, among others.
We also require breed, weight, and size information at the time of quoting to help ensure the right plane is offered to ensure the passengers' and pets' optimal comfort and safety. We also don't forget that pets today are well beyond dogs and cats – transportation for reptiles, birds and even fish can also be arranged (although these requests are treated individually).
In essence, the pet-friendly boom in many industries will only continue increasing thanks to the combination of the openness of businesses, the heart of volunteers, and the trust provided by loving owners. I am truly fortunate to be able to provide a small helping hand to those in need to transport their pets in a safe, comfortable, and quick manner, and I'll continue looking for ways to increase access to pet-friendly private jet charters for those families in need. We'll find a way to move your fur-babies.
About Exquisite Air Charter
Based in Los Angeles, Exquisite Air Charter is a boutique operation that builds long-term relationships and provides very personalized service to every customer. Exquisite Air Charter's aviation knowledge and expertise facilitates relationships with executives at the most highly regarded operators in the world and those relationships assist us in providing top-notch service to our clients.