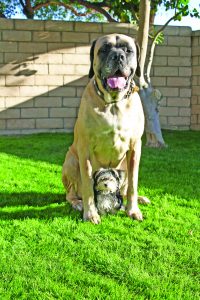 When Valerie Masi, owner of Best Paw Forward, met a litter of English Mastiff puppies in Morongo, CA she took a long time to decide which one she would take home. After two hours of meeting and greeting, Valerie chose Fiona, a curious and aloof pup who would run so fast her rear end would over run her front legs and make for some very entertaining puppy tumbles. Little did Valerie know, but Fiona would touch many people and pets in her lifetime, and become a furry fixture in the community.
Shortly after bringing her home, Valerie took a road trip through California and brought along Fiona and her older dog Sonny. Sonny was a great mentor to Fiona. During that trip, Fiona was exposed to everything from the busy city to the quiet countryside. She didn't meet many people, but she met plenty of horses, goats and sheep. After the trip, Fiona continued accompanying Valerie at Village Park Animal Hospital where Valerie managed boarding and grooming and did physical therapy with dogs. Fiona was always calm and helped comfort many dogs during their stay, especially in physical therapy. Valerie held puppy classes at Village Park and Fiona would hang out with all types of puppies from tiny yorkies to other large breed puppies.
After evening obedience classes, Fiona and Valerie would regularly meet up with a group of friends at Stuft Pizza. Fiona was well known there, and Valerie says, "It was literally like being with a celebrity. If Fiona didn't come with me everyone would ask where she was. She loved the attention, even after losing her eyesight."
Fiona was the epitome of a gentle giant. Weighing 150 pounds, her size could be considered intimidating, but her sweet nature always shined through. She helped kids overcome their fear of dogs and eventually went to "work" in the classroom thanks to Valerie's partner Jeanne, a para-educator.
While Jeanne was at an elementary school she noticed the second grade kids were reading a book named "Henry & Mudge," about a boy and his Mastiff.  Jeanne told the teacher about Fiona, asking if she could bring her to class. Soon after, Fiona's school visits began. "The kids loved her," Valerie said. "We would talk about dog safety and when I would talk about a dog's teeth I would open her mouth and the kids would 'ooh' and 'ahhh!' I've had kids come up to me for years and say they know me because Fiona visited their class."
Outside of the classroom, Fiona was Valerie's demonstration dog for all her training classes. Fiona loved going but wasn't too interested in actually demonstrating. Being the funny girl that she was, she would do so in the slowest of motion. She was a hit at all the classes! Fiona also helped a lot of fearful dogs become more confident and balanced, and was Valerie's go-to dog when encountering dog aggressive clients. Fiona's giant but gentle nature and calm energy helped in the rehabilitation of a lot of dogs.
"Fiona helped train our Charlie 12 years ago," shared client and friend, Mary Cummings. "What a beauty and so gentle. She will forever be in our hearts."
In October, Fiona suffered a stroke and the time came to say goodbye. Fiona leaves a legacy of love behind her, and a paw print on all our hearts. "Valerie and Fiona were a great team," said Jo-Lynn Wesley. "I hope you are frolicking on the other side of the rainbow bridge, Fiona!"