The Link AKC Smart Collar has several features:
LOCATION — This feature uses AT&T's cellular network and GPS technology to help track your dog. You can also set up a "safe zone" by specifying an allowable distance from the base unit. Once your pet crosses the safe zone, you are sent an alert.
WELLNESS — Ambient temperature alerts, activity tracking, veterinary record storage and reminders, and activity recommendations based on your specific pet compared to similar breeds/age/size.
ADVENTURES — You can track your pet's activity level via the phone app and digitally record and store adventures. Also has a social media aspect to share adventures with your friends.
SOUND & LIGHT — LED light and training sound (series of three quiet beeps) on unit can be activated from app.
PROS:
• Extremely high-quality components  and well thought out design
• Tracking unit snaps into place solidly on carrier; never came off during dogs romp
• Waterproof to 3 feet
• Accurate locator and virtual fence worked well
• App easy to use
CONS:
• Rigid shape of collar attachment was uncomfortable for my dog. The curve only fit naturally at certain spots (top or bottom of neck).
PRODUCT SPECS:
$179.00*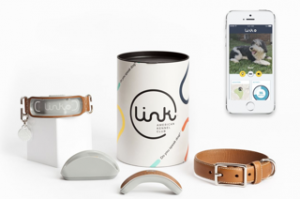 In the box
• Tracking unit
• Base station/charger
• Carrier (collar attachment)
• Leather collar
• Phone app
Not Included
• Service plan to track pet: $6.95–9.95/month
Benefits
• Access for your app & dog's collar to the LINK AKC data network
• 24/7 access to the Pet Poison Helpline
• Puppy guarantee
• 3-year limited warranty
* Price on website at press time