The Cat Clinic welcomed new medical director Gerhart Allen, DVM. He has extensive experience in Europe and the Middle East including small animal surgery.
Veterinary oncology specialist Dr. Dennis Macy is now seeing clients through Paws & Claws.
Dogs definitely had their day at this year's Pride Parade in Palm Springs, as local animal shelters and rescues participated in the celebration with adoptable pups. The Standard Poodle Club of the Desert had their first walk of the season on November 13th. Follow the club on Facebook for a list of more upcoming events. spoodles.org
A couple of your favorite shops are getting a holiday makeover. The Pet Oasis in Bermuda Dunes is under new ownership and unveiled their new logo featuring spokesdog Ellie, an adopted Chihuahua.
Bones-n-Scones is planning to move their Palm Springs location to a larger space by the beginning of 2019. Their new digs will be located on South Palm Canyon Drive near the Revivals in Sun Center.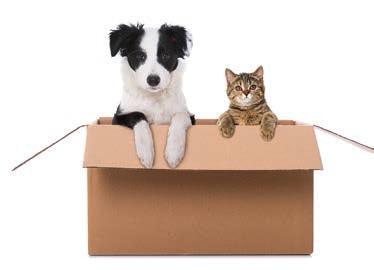 Loving All Animals gave Christine Madruga a hero's send off at this year's Spayghetti No Balls fundraiser. Christine Madruga officially announced her retirement at the event, as well as her gifting of The Pet Rescue Center to Loving All Animals. Brian Gallo of KMIR was master of ceremonies; Pet Companion Magazine, Epic Treats, Nulo Pet Food, Lucy Pet Products, and FirstMate Pet Foods were all on hand, giving out swag to guests.
We spotted Primetime Emmy-winning actress and animal advocate Patrika Darbo out and about with her rescue dog, Reesee. A veteran of dozens of films and many top television shows, Darbo is a 2018 Daytime Emmy nominee for her role on the Amazon Prime series, The Bay. She and Reesee are frequent visitors to the desert.
Happy tails! Remember Sadie (formerly Lulu), the tiny white poodle rescued from the Ramona Animal Shelter this summer by Rocky Randall (left)? Sadie was adopted by the Children's Discovery Museum of the Desert Chief Executive Officer Carol Scott (right). Sweet Sadie spends her days with her best furry friend Zoey.
The annual Gardens to the Rescue adoption fair took place on November 17th, and participating organizations celebrated 11 adoptions that day. Follow all their new adoptions on Facebook, @BiancaRaeFoundation.
Drinks and dogs? Sign us up! In November, the Riviera Hotel launched their new Yappy Hour series benefiting Animal Samaritans with great success, and they will be hosting yappy hours each month to continue their support. Visit animalsamaritans.org for more information.
Santa Paws was here! West Elm in Palm Springs partnered with the ASPCA for a holiday photo fundraiser right after Thanksgiving. Santa Paws was also spotted at Venus De Fidoin early November, and Barkingham Pet Hotel kicked off December with a photo event, as well.
Start the new year with a new adopted pet. Palm Springs Animal Shelter, Animal Samaritans and Living Free Animal Sanctuary will offer pet adoption specials throughout the holiday season. Check out their websites or pop in for a visit to meet your new furry family member.