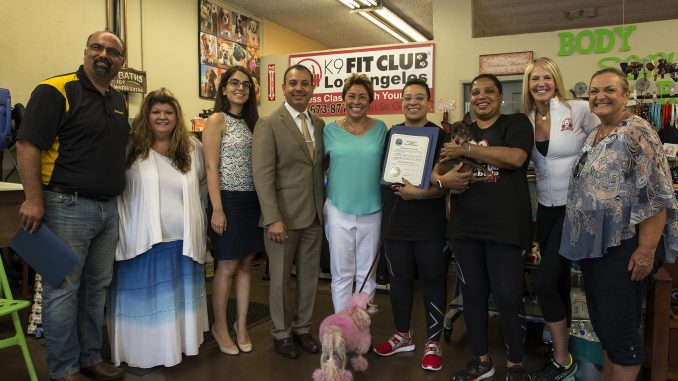 Montebello, CA – July 1, 2016 – K9 Fit Club® launched their first and only location in Los Angeles County just in time to celebrate July 22nd's National Work Out With Your Dog Day! Metro Pet Spa and K9 Fit Club® hosted a grand opening celebration on Friday, July 22nd. Fitness demos and prizes were a few of the many fun activities throughout the grand opening weekend event.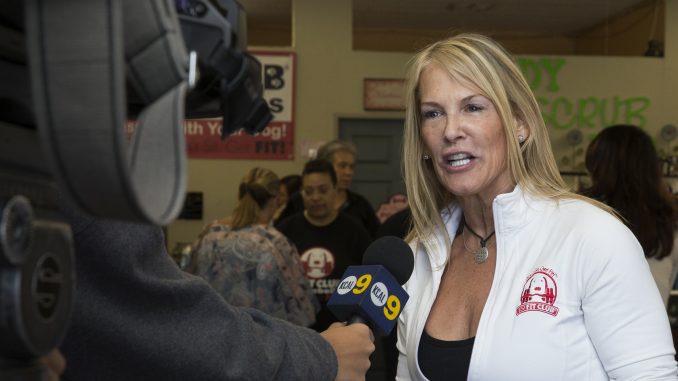 "There's no other place in LA pet parents can workout inside with their canine companions," Founder of K9 Fit Club®, Tricia Montgomery expresses, "We anticipate much success and believe pet owners in LA will take full advantage of our new classes offered by Metro Pet Spa & Fitness Centers."
The event kicked-off with a ribbon cutting ceremony and champagne toast at 12:00 pm. Saturday's celebration provided complimentary goodie bags to the first 200 guests. On both days, prizes, local politicians and celebrities attended. Pet lovers will had the opportunity to mix and mingle and check out Metro Pet Spa's impressive facility.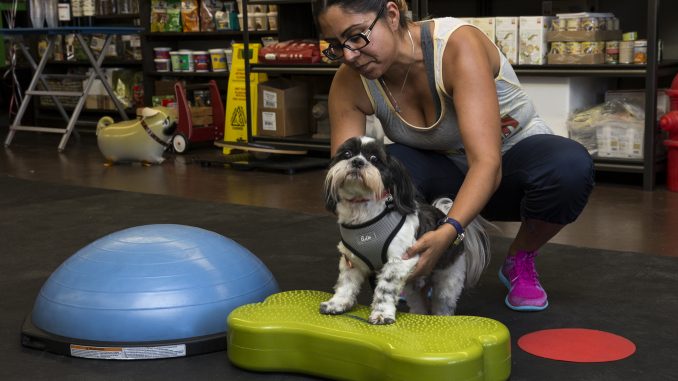 Throughout the course of the two-day event, Metro Pet's Master Trainers Michelle and Veterinarian Dr. Rainey, and K9 Fit Club's Founder, Tricia Montgomery, showcased to LA residents what a typical fitness class with their canine would be like.
Since graduating from Tuskegee University School of Veterinary Medicine 1997, Dr. Rainey has many years of veterinarian experience in LA under her belt, which includes her previous position at Los Angeles County Veterinary Public Health and Los Angeles Department of Animal Services as a Shelter Veterinarian and Chief Veterinarian. She participated and orchestrated many community events, received two accommodations, and facilitated the relocation of dogs from the Hurricane Katrina area to Los Angeles.
Michelle has been grooming cats and dogs since the age of fourteen and worked in the veterinary field for 7 years as a vet technician. She also held a position for the Los Angeles Animal Services for a total of 12 years and then accepted a position as a Deputy Director with the Los Angeles County Department of Animal Care & Control.
Dr. Rainey and Michelle teamed up in 2012 to launch veterinary owned and operated Metro Pet Spa, the first and only in this geographical location to offer luxurious spa and pet wellness services for dogs. Together, this dynamic duo created a unique and successful company that is passionate about pet health and wellness.
"We are thrilled to team up with the reputable Dr. Rainey and Michelle and open the first K9 Fit Club® in LA at the fabulous Metro Pet Spa!" stated Tricia Montgomery.
About K9 Fit Club®:
K9 Fit Club is the nation's pioneer and leader in human/canine fitness. We are dedicated to the health, fitness, and wellness of dogs and their people. As the nation's first indoor workout facility dedicated to dogs and their pet parents, our programs and classes were developed by Veterinarians, Doctors, Certified Animal Behaviorists, People and Pup Personal Trainers, all designed to ensure a safe, fun and effective workout for both the dog and owner. As we develop and grow clubs around the country, our efforts also include working with humane associations and animal rescue groups throughout the communities in which we serve. Learn more about K9 Fit Club® here: http://k9fitclub.com/.
About Metro Pet Spa & Fitness Centers:
Metro Pet Spa was created with your pet's health and well being in mind. We are an eco-friendly company dedicated to preserving our precious planet to make a better place for our furry friends. Veterinary-owned and operated, we are the first and only in this geographical location to offer luxurious spa services for your dog. Join us for a unique and relaxing spa experience for your pet. We specialize in luxurious spa treatments for dogs including: Body scrubs, hair & skin treatments, special spa packages, pedicures & paw treatments, facials, massages, and much more. All of our products are natural and very safe & therapeutic to the well being of your pet. We also offer doggie day care supervised by staff certified in Red Cross CPR & first aid and a veterinarian. Learn more at: http://www.metro-pet-spa.com/.