The stars are out … the air is clear. Thousands are gathered in chairs and on blankets under the night sky, enjoying the live music as they dine on cuisine that is freshly prepared and hot out of the kitchen. A white movie screen stands at the front, 3-1/2 stories tall and 60 feet wide. With 15 to 30 thousand lumens of projection and Line RA sound (a system custom built to create sharp, crisp sound outdoors), the packed audience knows it's in for a treat. A hush falls as the movie begins, and many of the audience members circle three times on their blankets, then lie down with a contented sigh.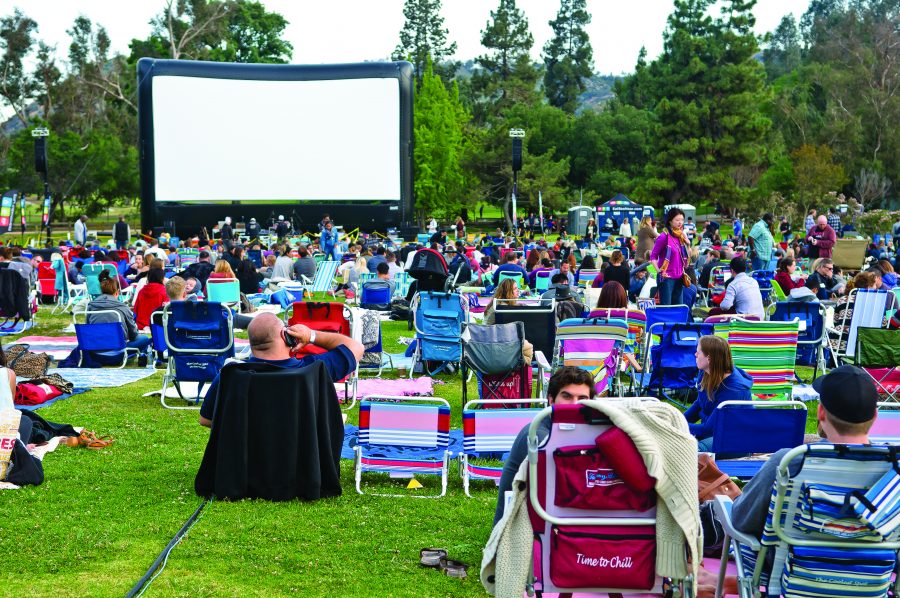 Yes, we're talking about dogs—they make up a large part of this audience, and they're at the heart of the Eat|See|Hear experience. Founded by Sharon and Jeff Sperber in 2012, the event occupies venues throughout Los Angeles all summer long, bringing up-and-coming local bands, gourmet food trucks, and the most professional projection and sound equipment available to give people and their pets an exciting Saturday night out.
"Los Angeles is the movie capital of the world," says Sharon Sperber. "It has a lively music scene and it's the place where food trucks began, so we wanted to provide an outdoor movie-going experience with a production value worthy of Hollywood." And as pet parents, they were inspired to make it pet-friendly—they even give a portion of all ticket sales to No Kill Los Angeles, their official nonprofit partner since 2013. Eat|See|Hear also supports Best Friends Animal Society–Los Angeles through various initiatives, including a Christmas in July special supply drive movie event. Planned this year for July 22nd, it will feature the movie Die Hard, and attendees are asked to bring pet supplies to donate to the organization.
Sharon and Jeff both began their careers in the music industry, then moved into marketing and branding. Their idea for Eat|See|Hear came out of an assignment for an outdoor movie screening—they envisioned a pet-friendly event that would unite communities and provide a Hollywood-style movie experience right in LA residents' own neighborhoods. "When we initially formed Eat|See|Hear, we wanted to create an outdoor series in Los Angeles that fit our lifestyle and requirements—mainly to create an event space that was great for humans and their well-behaved pets."
And it's great to be a dog at Eat|See|Hear. All canine audience members are greeted at the door with free biscuits and treats at every event. Water bowls are placed all around the venues and there are always extra doggie bags available for emergencies.
Eat|See|Hear events run all summer long in Santa Monica, Pasadena, downtown LA/Chinatown, North Hollywood, Beverly Hills, and at the Autry Museum in Griffith Park. "And this year," says Sharon, "we'll be holding a special celebration at the Los Angeles State Historic Park, which just reopened in late April after a 3-year renovation."
Each venue holds from 2,000 to 3,500 people, and the Sperbers ensure that each is pet-friendly, filing for waivers when necessary to allow pets on the premises. And dogs, while they make up the largest percentage of the pet audience, they are not the only pets to show up at Eat|See|Hear events. "People have brought cats, birds, even a rabbit on a leash!," Sharon reports. With all those pet lovers on hand, pet rescues are encouraged to attend with adoptable pets, and most events have a shelter or rescue in place to educate attendees about how they can help.
The winner of "Best Outdoor Movie Event" in Los Angeles Magazine's Best of LA 2014, Eat|See|Hear is truly LA's premier outdoor movie, food truck and live music event series. And knowing you're helping keep adoptable dogs and cats alive through No Kill Los Angeles and Best Friends will have you feeling good all summer. The 2017 season kicked off on May 6th, so if you're up for some great food, live music, and catching a movie with your best friend, check out the schedule on petcompanionmag.com/events or at eatseehear.com. Have some fun, save a life!