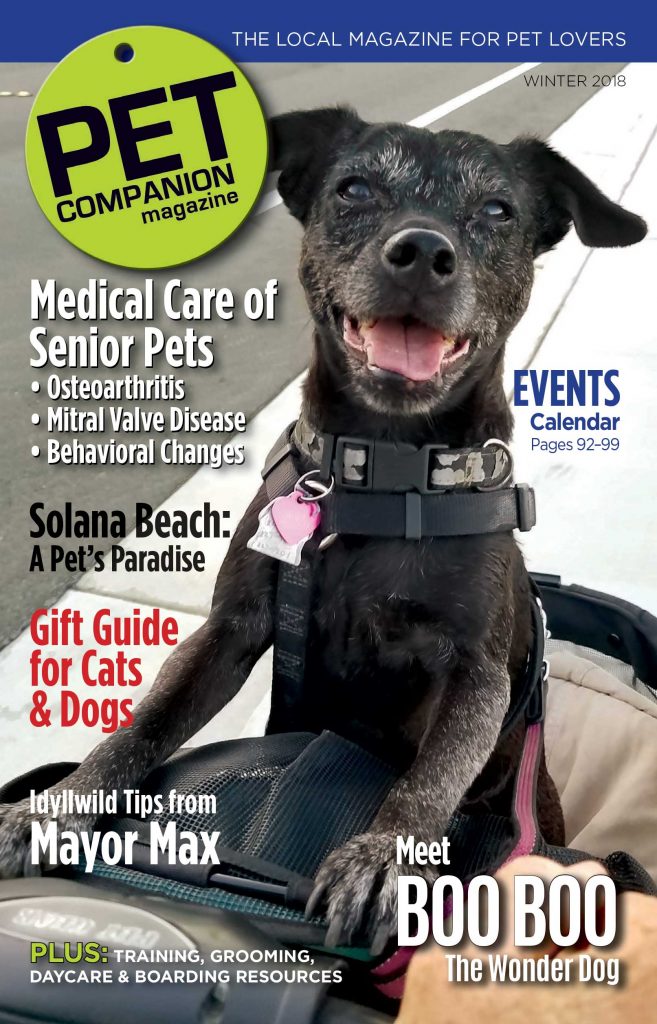 Welcome to the Winter 2018 issue!
Our cover story is about Boo Boo. If you've ever been near the top of the Lykken Trail in Palm Springs and seen a dog in a reflective coat who's not even winded, you've probably met Boo Boo. Or maybe you once saw a small dog with a giant piece of wood in his mouth somewhere in Oregon and wondered how he could possibly carry such a big stick. That was most likely Boo Boo, too. Or, if you've seen a black dog on a bike, paws firmly on the handlebars, wind in her ears—in just about any city in the country—that might also have been a Boo Boo sighting. Boo Boo is a daring dog who commands attention and makes a friend everywhere she goes, and right now she's traveling around the country, looking for new friends and new adventures.
Here's a look at the contents of the issue:
Features:
Guidelines for Giving

Kennel Club of Palm Springs 2018 Dog Show

Are You Ready?

 

Solana Beach: A Pet's Paradise
Health:
Medical Care of Senior Pets, By Lillian Roberts, DVM
Diagnosing and Managing Osteoarthritis, By Brittany Yates, DVM
Mitral Valve Disease in Dogs, By Robert Reed, DVM, MSES, MPA
Lifestyle:
The Importance of Play
Pet Memorials
Gift Ideas for Cats & Dogs
News from Mayor Max
Training:
A Tired Dog is a Good Dog

, By Lori Carman, VSPDT
Behavioral Changes in Senior Animals, By Valerie Masi
If you'd like a copy of the issue, click on the cover image to read the digital version or please visit our subscription page. Digital subscriptions are free and print subscriptions are available too. Copies can be found at most of our advertisers' locations or at one of approximately 600 businesses throughout Southern California.