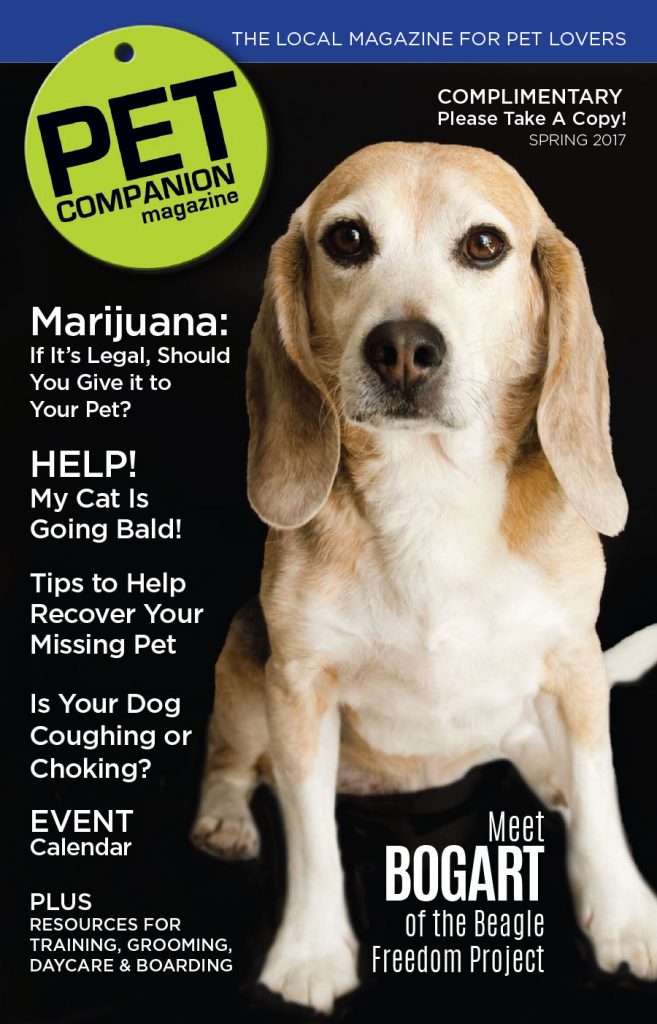 Welcome to the Fall 2017 issue!
Our cover story is about Bogart. When you meet Bogart, you meet a cool as a cucumber beagle living the lush life with a brother named Boots and humans who just can't stop kissing him. He loves it; don't let him tell you any different. He will work for treats, but anything else … well, he'll think about it while he snoozes on his favorite blanket. On the couch, of course.
It's hard to believe that Bogart had any other life before this one, but he did. His name was 5989418 and he was a laboratory research beagle. Bred specifically to be sold to a research lab, Bogart lived his entire life in a cage, never walking on grass, never feeling sunlight on his face, never experiencing the loving touch of a human companion.
Here's a look at the contents of the issue:
Features:
Pet Air Transport: A Quick Trip to a New Home: Wings of Rescue transports homeless pets to underpopulated shelters
Mosquitos Season Is Upon Us What Is the Risk to Pets?
Traveling with a Cat Show Veteran
Lost Dog! A harrowing tale of a lost dog
Spring Reminders: Cat Season, Rattlesnakes and Heat!
Health:
When Do You Need Your Vet? By Lillian Roberts, DVM
Help, My Cat's Going Bald! By Rebecca Diaz, DVM
Marijuana: If It's Legal, Should You Give It to Your Pet? By Robert Reed, DVM, MSES, MPA
Is Your Dog Coughing or Choking? By Brittany Yates, DVM
Lifestyle:
How Clean is Your Pet's Water Dish?
Rescued — The Beagle Freedom Project
PSAS Friends Pet Project
News from Mayor Max
Le Chien Masquerade Party
Training:
Like Cats & Dogs, By Lori Carman, VSPDT
Does Your Dog Know Where Home Is? By Valerie Masi
Anticipation—When it Works, When it Doesn't, By Janine Allen, CDPT
If you'd like a copy of the issue, click on the cover image to read the digital version or please visit our subscription page. Digital subscriptions are free and print subscriptions are available too. Copies can be found at most of our advertisers' locations or at one of approximately 600 businesses throughout Southern California.