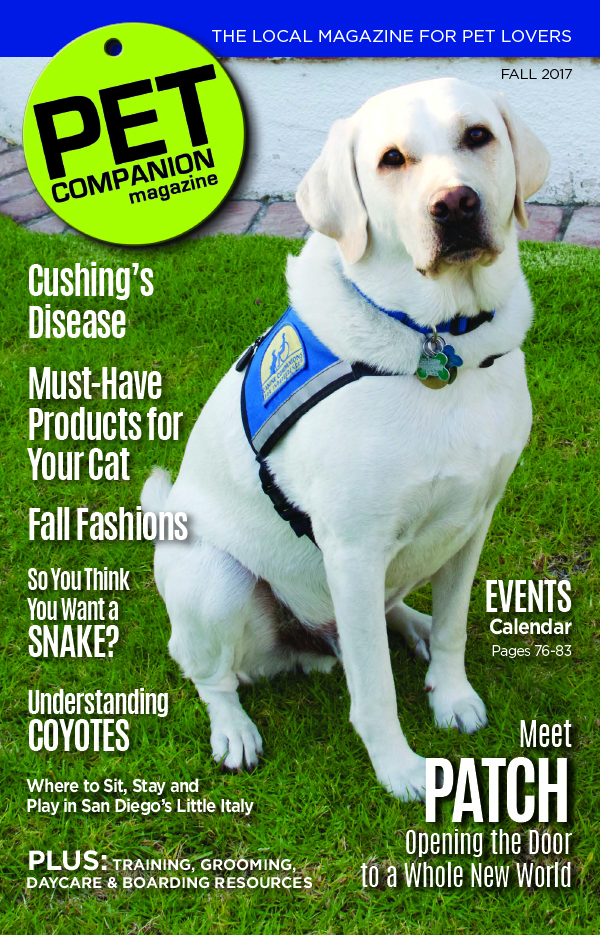 Welcome to the Fall 2017 issue!
Our cover story is about Patch. Patch the yellow lab has been on the job for just a year, but he's already made himself indispensable, and not for the reasons you might think. Patch is a service dog for Annette Ramirez, and this past year has been transformational for both of them.
Here's a look at the contents of the issue:
Features:
How Wet Should I Get My Pet? Bathing Basics from John Paul Pet
Is Your Pet Gut-Healthy? Prebiotics and Probiotics
Where to Sit, Stay and Play in San Diego's Little Italy
Cat Expo Wrap-up
Health:
Cushing's Disease in Dogs, By Lillian Roberts, DVM
So You Think You Want a Snake?, By David Jeffrey, BSc BVMS
Understanding Coyotes, By Robert Reed, DVM, MSES, MPA
Diseases That Affect Both Dogs and Coyotes, By Robert Reed, DVM, MSES, MPA
Lifestyle:
Must-Have Products For Cats!
Fall Fashion — Boogie Shoes Top Picks
What to Do if a Coyote Approaches You
Did You Know? Cat Trivia
Training:
Training Tips, By Lori Carman, VSPDT
Yes, You Can Pet My Dog, By Valerie Masi
If you'd like a copy of the issue, click on the cover image to read the digital version or please visit our subscription page. Digital subscriptions are free and print subscriptions are available too. Copies can be found at most of our advertisers' locations or at one of approximately 600 businesses throughout Southern California.